A recent Gartner report names iONE360 as a representative vendor of composable product configuration.'The 2023 Market Guide For Composable Product Configurators' helps business leaders understand the emerging market for this technology, and aids their search for the right vendor.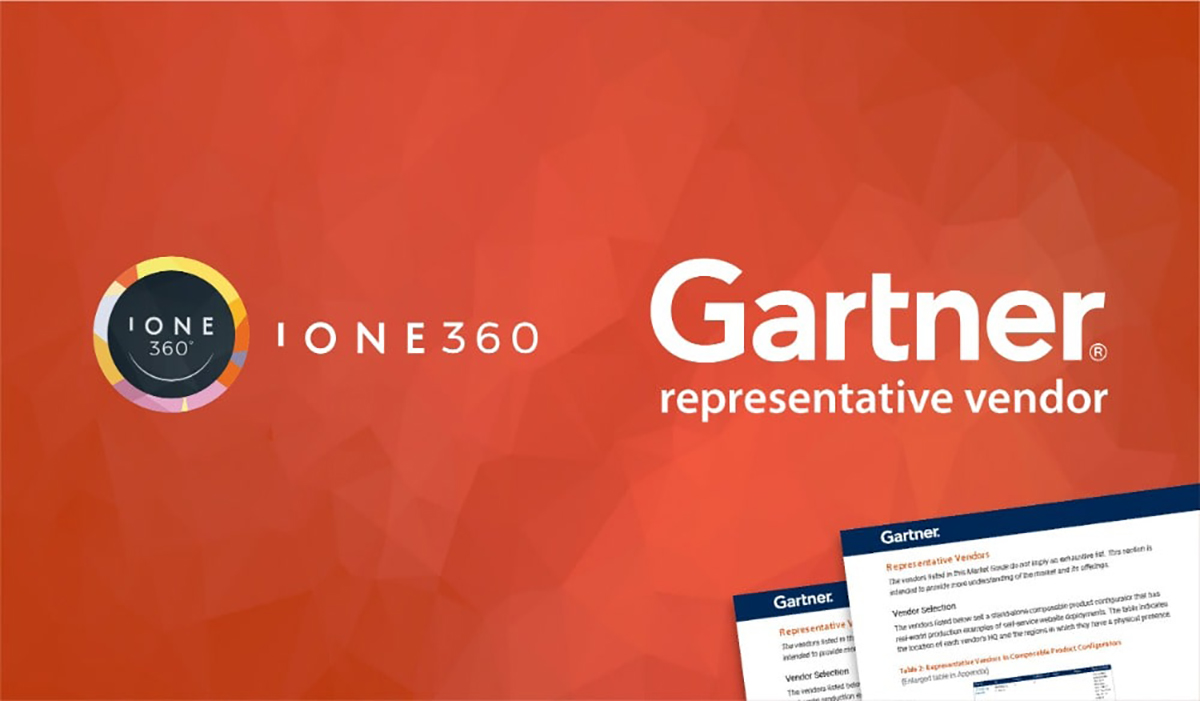 The report offers insights into the added value that composable product configuration brings to retailing complex goods such as furniture. It also highlights the ease of its application across multiple sales channels, and the cost-savings and business benefits involved.
For example, after implementing composable product configuration, one company saved 20% in samples and inventory items. At the same, many other businesses report between a 10% and 50% increase in cart conversion rate.
A better way to visualize products
Right now, there are two options for companies looking for product visualization technology: Configure Price Quote (CPQ) applications, and digital commerce platforms. Both come with their limitations:
CPQ applications easily support complex products, but are often cumbersome and lead to a slow frontend experience, impacting usability. They are typically used in B2B environments where the sales process involves creating customized quotes for customers based on their specific requirements, not so much self-service oriented.
Digital commerce platforms are great for self-service channels but fall down on their ability to support more complex product visualization. Their main focus is on enabling transactions and managing the online storefront.
Thankfully, a third option has recently emerged: composable product configuration. Via APIs or an embedded UI, a composable product configuration component integrates with related technology such as ordering systems, ERP, shopping carts, and sales catalogs. 
Even better, it can be added to any digital commerce platform or assisted selling application that supports integrations with a configurator, while offering unlimited configurable options by selecting and combining various components and features. 
With a composable product configurator, customers have more control over the final product and can tailor it to their specific needs and preferences. So it's no surprise that the Gartner report predicts that over the next five years, composable product configuration will become the main form of product visualization.
A composable product configurator from iONE360
"We are very proud that iONE360 has been recognized by a leading research and advisory company like Gartner. I feel this highlights our commitment to delivering innovative solutions in the home and decor industries and validates our position as a trusted and reliable provider. We will continue to strive for excellence and provide cutting-edge technologies to meet the evolving needs of our clients."
– David Colijn, CMO iONE360
Being named in the Gartner report on composable product configurators puts iONE360 up there amongst the world's major players in this emerging technology. 
It's great to get the recognition, but what makes us different?
Our product configuration software is based on ERP logic. Not only does it give your customers and sales team great visuals via a variety of platforms (Virtual Reality, Augmented Reality, and Mixed Reality) it also outputs usable (BOM) data.
That means you can connect iONE360 directly to your current systems and business processes and take a leaner approach to manufacturing furniture.
We can help you bring high-quality product visualization to your customers, and sales team Connect with us today.