Discover how the Room Planner, when part of your retail formula, leads to significant sales success.
Discover how the Room Planner, when part of your retail formula, leads to significant sales success.
At first glance, it may have seemed like a leap into the unknown: the established retail formula Habufa decided to invest in a 3D visualization tool. One that would be applied in all physical stores and on their own webshops. A vast new component in their standard brand and retail formula, based on a technology that had not been used in this form before. There was no certainty about whether it would yield results. Ultimately, it was up to the salespeople to generate a return on this investment – since they would be the ones working with it.
Habufa entrusted iONE360 with the development of this tool. And while there were only expectations at the time, now we have measurable results and we know for sure: it works. Even beyond expectations.
A part of the retail formula
Having a vision is one thing, but achieving success is another story. The way Habufa ensured that their staff in all their sales outlets, where they sell collections like Henders & Hazel, XOOON, and Coco Maison, can proficiently work with the room planner and assist customers in their purchases, made all the difference. After implementing the room planner in physical stores and training their staff, Habufa has seen a significant increase in average order values and conversions. And after making the 2D version of the room planner available on their own webshops, with the idea of finishing the room in 3D in-store, the number of store appointments has also increased.
In one of their sales outlets, Henders & Hazel Hoogenboezem in Breda, the success of the room planner is particularly noticeable. In the middle of the store, on both the ground floor and the first floor, there is a space dedicated for the room planner. This is where all serious sales conversations begin and end. When a customer shows interest or has already made an appointment via the online room planner, the salesperson and the customer sit there. Equipped with a large screen, comfortable table, and chairs, this is the ideal place to collaboratively design the space and provide comprehensive interior advice to the customer.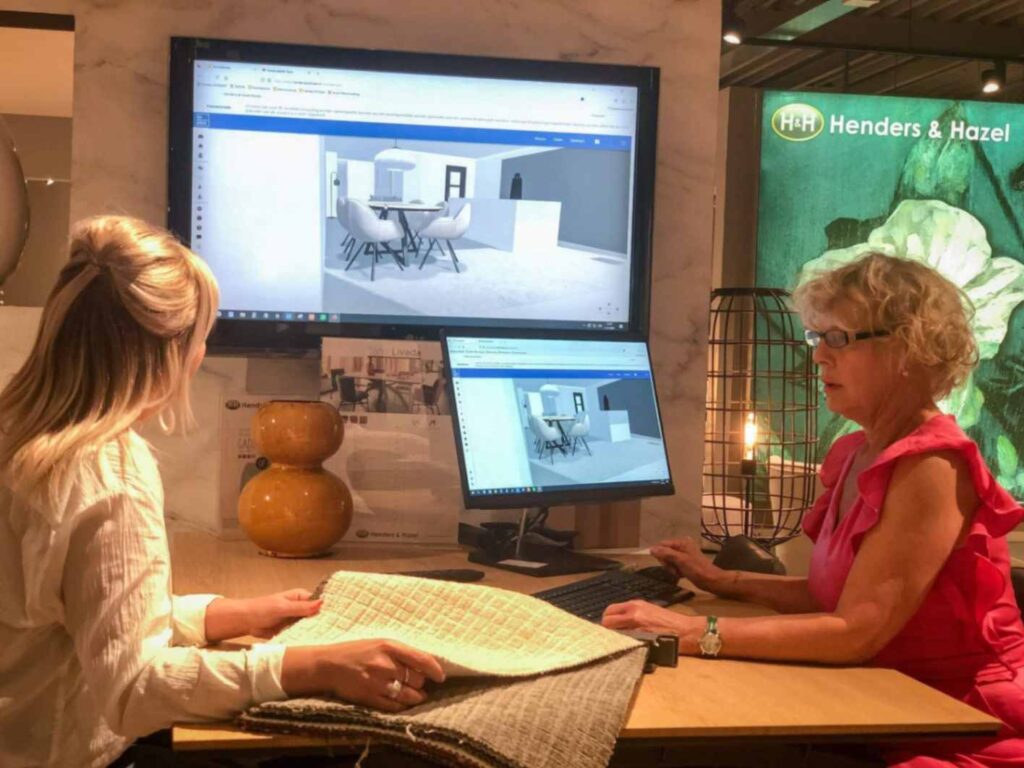 A user-friendly and essential sales tool
Ella Jansen, who has been working at Hoogenboezem Meubelen for 25 years and is employed at the Henders & Hazel store in Breda, decided to go for it about a year ago. Previously, she would draw sketches for customers, but then the room planner came into play. Despite the training provided by Habufa, she found it a bit daunting to start using it. While her colleagues were already using the room planner and achieving great success, Ella held back for a while. But when you have to ask your colleagues to use the room planner on your behalf after a good sales conversation, you know something needs to change. And that's what Ella did. Since then, she has been writing one order after another.
"When I use the room planner, my orders go through way quicker. Customers simply say yes more easily."
In the meantime, Ella has become completely familiar with the user-friendly room planner and notices that her orders are being written faster. Previously, customers would come back 4, 5, or even 6 times before making a purchase, but now they place their order in one go. "Customers simply say yes more easily," says Ella. "You eliminate some of the doubts; it's as simple as that. The room planner confirms whether the intended furniture actually fits or maybe even if it's too small for the space. Moreover, you can design the rest of the space around it, so the customer gets a high-quality and realistic image of their own space with the new furniture." Ella even offers extra service by asking in advance which furniture the customer already has in the space so that when they arrive, the space is already prepared as good as possible.
Engage customers and provide certainty
Another important reason why the room planner is so successful is that the customer becomes highly engaged during the purchase process. The customer starts at home with the 2D room planner or makes an appointment from the store. Measurements are provided, the existing layout is considered, and new furniture is explored. Once they arrive at the store, they work together and see the space come to life. "It really grows," says Ella. "And then you quickly notice customers nodding yes. And that's confirmation that people are going to make a purchase."
Furthermore, it's easier to convey interior advice. Previously, the customer had to rely on their imagination for interior advice, and it was up to the salesperson to convince them. Now, it can be visualized with just a few clicks. This allows for quickly achieving a stylish interior that fully aligns with the customer's desires. "The room planner gives customers a sense of security and certainty. The three-month delivery time no longer matters because you no longer have to worry about whether it will really fit."
"It has truly become an enjoyable part of my work."
The room planner is now an essential tool for Habufa's salespeople. It has truly become an integral part of their work. Thanks to its ease of use, access to up-to-date product collections, and the ability to order directly from the room planner, this is a tool that anyone can work with. Investing in such a tool may have seemed risky, but it has turned out to be one of the best decisions in recent years. Customers who enter a store where one or more collections from Habufa are available experience an unparalleled customer experience, make a well-considered purchase, and never want anything else.
3D visualization tools are transforming the way customers shop and delivering stunning results. Curious about how you can also benefit from this revolutionary technology? Contact us.