Until now, showing customers every possible combination of a configurable furniture product was financially and logistically unfeasible – even impossible. With automated CGI for furniture, that's changed.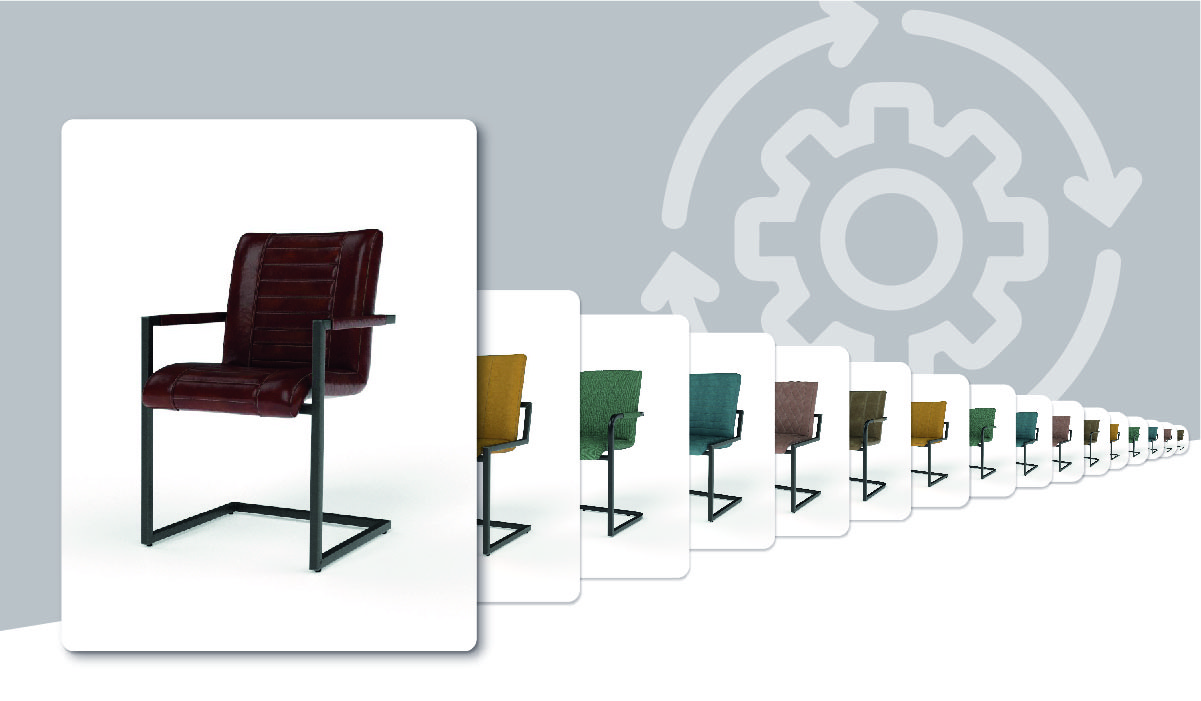 Until now, showing customers every possible combination of a configurable furniture product was financially and logistically unfeasible – even impossible. With automated CGI for furniture, that's changed.
It's now possible – and profitable – to visualize every variant of a furniture product using automated CGI. Inside a product configurator, this automation supports the guided selling process, so customers can easily find the right combination for their needs, and ultimately make a purchase.
Automated CGI (Computer Generated Imagery) for furniture is using 3D visualization software in order to create 2D renders (images) on demand. Once the digital models are created in 3D, they can then be rendered into high-quality 2D images.
With the most commonly used technique for this today – automated pre-rendering – every combination of a product is generated as a 2D image beforehand, so companies can build a bank of pre-rendered images for customers to view.
With pre-rendering, a 3D artist sets up a script to run and create every possible permutation of a product. That means companies will pay for images that customers may never select. As well as that, there's still the need to structure hundreds or thousands of product images and somehow connect them to a product's configuration options – a time-consuming and complicated task.
Alternatively, automated live rendering goes the extra mile. Rather than creating a library of pre-rendered images of every model, component, element, material and feature of a furniture product – and then uploading them – it generates new renders in response to customer selections on the spot. That means, if a product image does not yet exist, it's created live and then stored for future use.
Product visualization is traditionally done through product photography. For companies with multiple product lines as well as numerous configuration options, which is often the case with furniture, that's not cost-effective. At the same time, manufacturing, shipping, and storing hundreds or thousands of product variants – and photographing them – is time-consuming and impractical.
It's also important to remember that customers need to see how their configured furniture product will look before they make a purchase. So, without heavily investing in product photography, how do furniture companies show customers every possible combination of a product before they buy it? Many look at CGI to solve those issues.
Even so, pre-rendering a model with hundreds – or even thousands – of variants can cost thousands of Euros. Applying that across your entire catalog simply isn't viable. That's where automated CGI comes in. Instead of paying Euros per image, companies pay cents.
Furniture companies use automated CGI for furniture to enhance their sales and marketing efforts. With photorealistic images of their furniture products, businesses can showcase realistic designs and variations in a way that engages customers, whilst cutting the cost of expensive photo shoots or physical prototypes.
Apart from the practical advantages of having access to images of all possible product combinations, it offers another great opportunity. Within the iONE360 platform, you can offer interactive 3D and photorealistic 2D renders within a single visual configurator. This combines the best of both worlds and delivers a convincing shopping experience.
iONE360's fully integrated product visualization platform enables furniture companies to create realistic digital versions of physical products.
The beauty of creating 3D product models is that they're incredibly versatile. Customers can interact with your products in 360 viewers. They can also place products in their own environment through Augmented Reality (AR) or a Room Planner and, of course, viewing every combination through a photorealistic (automated) rendered image.
It starts with creating 3D models and setting up configurations. From there, you'll have access to all kinds of exciting ways to showcase your furniture products as part of appealing and engaging online experiences for customers.
Allowing customers to explore and interact with your products across virtual, augmented, and mixed realities, helps customers make more informed buying decisions by giving them a better understanding of the product's design, features, and functionality.
Whether you want to use it as visual content for your webshop, product catalog, advertisement or quotes, automated CGI for furniture is a cost-effective way to present customers with every available option, and guide them through the buying process.
Discover how automated CGI facilitates your visualization challenges by booking a demo of iONE360. Book a FREE demo.
EXPERIENCE VISUAL COMMERCE
Try the 3D Product Configurator yourself