A product catalogue can only give your customers so much information. No matter how good your catalogue is, static images will always fall short when it comes to your customer's imagination gap.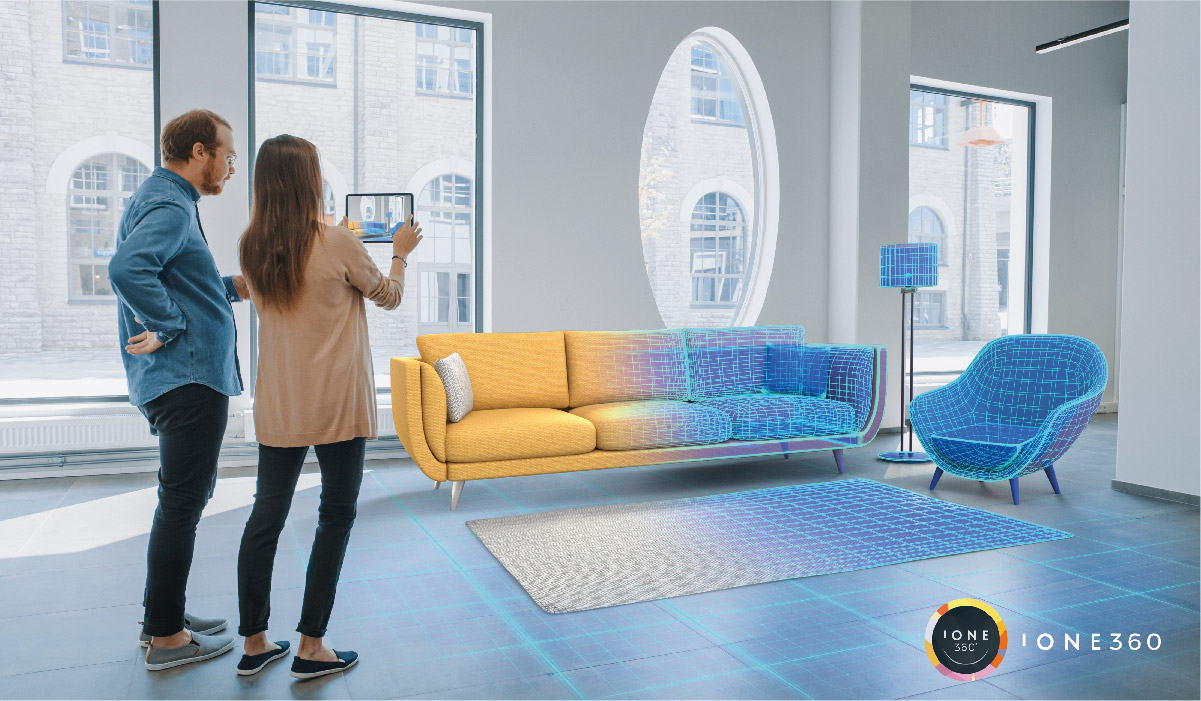 A product catalogue can only give your customers so much information. No matter how good your catalogue is, static images will always fall short when it comes to your customer's imagination gap.
A trip to a physical store might give customers a better idea of what a real product looks like – its size, its material, its quality – but for large furniture items, like sofas, stores don't tend to stock every available colour and every fabric. Customers might get to see a fabric swatch, but that's no substitute for viewing the item fully covered in that fabric and in the context of their own home.
To visualize a product in their own home – in the styles and colours of their choice – customers need to see it in context. When they can do that, you get happy and loyal customers, and more conversions. That's where 3D configuration and Augmented Reality (AR) come into play.
Seeing a product in a store or showroom, then heading back home with measurements and a mental picture or photos, is a hit-and-miss approach to buying furniture. It's only when the item is sitting in context that it's possible to determine if it's right or not. At that stage, it becomes a major hassle to send it back.
The other problem with this approach to buying is that if there are any changes to a product's properties – be it the colour, the fabric, or the shape – the customers' ability to accurately visualise it in situ becomes further impaired. They might have a few swatches of materials and a tape measure, but there's no way of testing out different combinations to see which one they like best.
Consumers are increasingly being offered options to fully personalise and customise a product, but are not given the right tools to properly assess their choices. Buying expensive furniture in this way requires a leap of faith.
Whether shopping offline and online, there's always the challenge of visualising a customised product in a given space. A customer might take measurements to ensure a product fits, but how do they know for absolute certainty what it will look like? A visual product configurator makes them see the change.
With thousands of different variants, it can soon become overwhelming for the customer. Sitting with a sales rep, every time something changes, a new price calculation has to be made. Sometimes with too much choice, reluctance can start to set in.
A product configurator can provide a very realistic idea of what is possible via a guided selling process and offers a preview of what a piece of furniture will look like in the real world. It's a playground, giving customers unlimited freedom to try out different ideas, and get to the best solution. Whether it's placing pieces of furniture in your own home using Augmented Reality, designing your own room in 3D or configuring and viewing a product in fully interactive and photorealistic 3D – it all ensures your customers can visualise the product and truly understand what they are buying.
In addition, companies using the iONE360 visual product configurator also get access to the automated rendering feature: this means you will be able to literally showcase all possible combinations of all products – in interactive 3D as well as a 2D render – thanks to rendering on demand.
Support The Buyer's Journey
At various points in the buyer's journey, there are changes in their willingness to buy. Businesses can guide buyers towards making a purchase by providing different kinds of visualisations.
In the early stages, you're likely to focus on showing customers a product in 3D with multiple configurations. Embedding a 3D configurator tool on your product page allows the customer to play around with their ideas, and requires minimal investment in terms of time and effort on their part.
The next step is to show the item in context. Augmented Reality (AR) is one way to take a customised product and see it in the context of a real-world space. There are two options for doing this:
Take the 3D rendering of the base model and visualise it in a real-world space.
Continue configuring the product whilst visualising it in the real-world (Android only).
Now your customers can see what the product looks like in context, they've bridged the imagination gap. And they feel much more confident about making the purchase.
Learn more about the iONE360 product configurator.