AUGMENTED REALITY IN ECOMMERCE
Configurable AR | WebAR | No app needed
Offer the ultimate AR experience and
accelerate your business
SHOWCASE YOUR PRODUCTS WHEREVER, WHENEVER!
Encourage your customers to buy with confidence
Make it real with
Augmented Reality in ecommerce
A realtime, interactive experience
Using augmented reality in ecommerce is a great way to showcase ánd customize your products in 3D in any environment. Realtime, anytime. Indoors and outdoors.

And that's not all…

With iONE360 you can both project the configured model in AR ánd customize the model further withín the AR environment!* Configurable AR. Simply unique!

Augmented Reality in ecommerce is suitable for any customizable product. Thanks to AR these products can now be bought well informed and safely online. Uplift customer expectations, overcome disappointments, boost your sales and minimalize returns.
*at the moment only available on Android. iOS is soon to follow.
"I never expected
Augmented Reality
to be so realistic"
Configurable AR | Web AR | No app needed
Bridge the imagination gap with Augmented Reality in ecommerce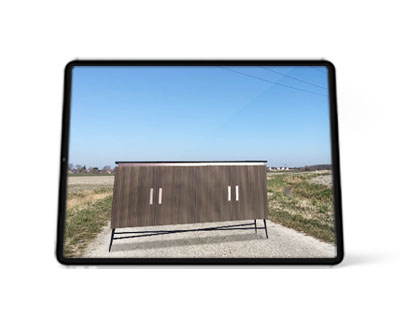 If you can place a cabinet in the fields, then anything is possible! Display your configured articles in any desired environment. Straight from your website. Anywhere, anytime, anyplace.
Use indoors and outside | 360 view | No app needed
want to use Augmented Reality 
in ecommerce environment
to better visualize their product?
Configurable AR | Web AR | Take snapshots and share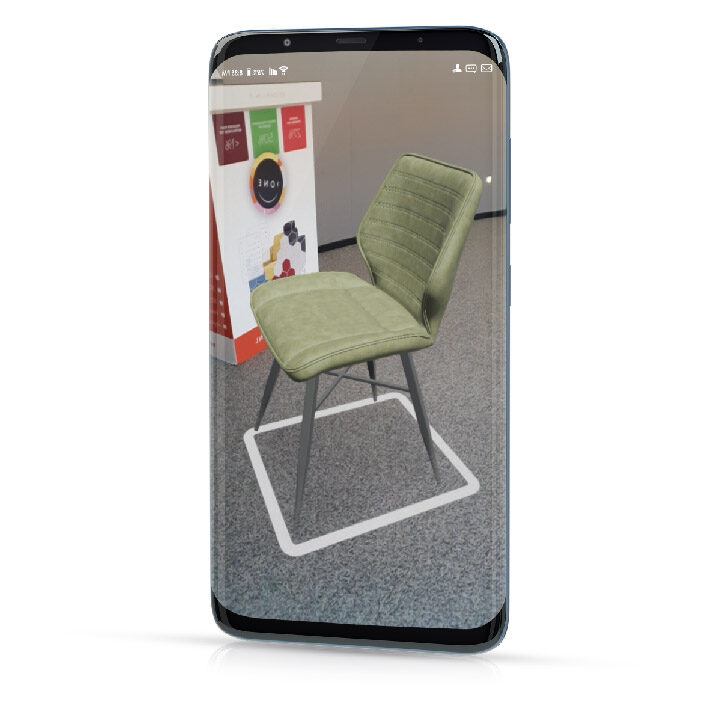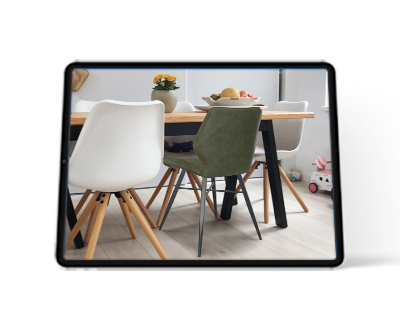 Can you tell the difference?
The augmented reality created by our iONE360 3D Product Configurator is of such high quality, that you can hardly tell the difference. Augmented Reality is the real deal!
Highly realistic & amazing details
3D chair configurator with web-native AR
High quality 3D chair configuration with web-based augmented reality enabled (on android with Chrome). Try it yourself!






Furniture (upholstery) , fashion, fashion accessoires, shoes, mass-customizable goods, appliances, and so much more
About this visual configurator demo:
Such high quality, while keeping performance high! Meet our webbased 3D configurator. In this example of a dining chair, you can change the fabrics, choose from several stitching patterns and select different frames. Change the floor to see the product in a different setting, and, if you have an android phone, try the web-native AR feature to display the product as configured right there next to you in your room.
Augmented reality in ecommerce
THE NEW WAY OF HOME SHOPPING
Augmented reality (AR) is a real-time, interactive experience, adding graphical imagery to the real world. Thus helping your customers to really visualize what your products would look like in real life. And thanks to the WebAR technology, you can now showcase your products anywhere and everywhere you want, right over the internet, without the need of any app. Bring your products to life with AR! In stores, at home or any other environment. Show all options and features in unrivaled 3D quality. Help your customers  understand your products and watch as conversion and satisfaction rates take off.
Source: Richmond Interiors
PUSH YOUR E-COMMERCE TO NEW HEIGHTS
discover our fully integrated
iONE360 product configurator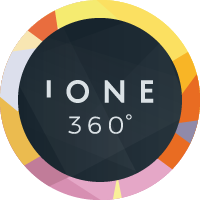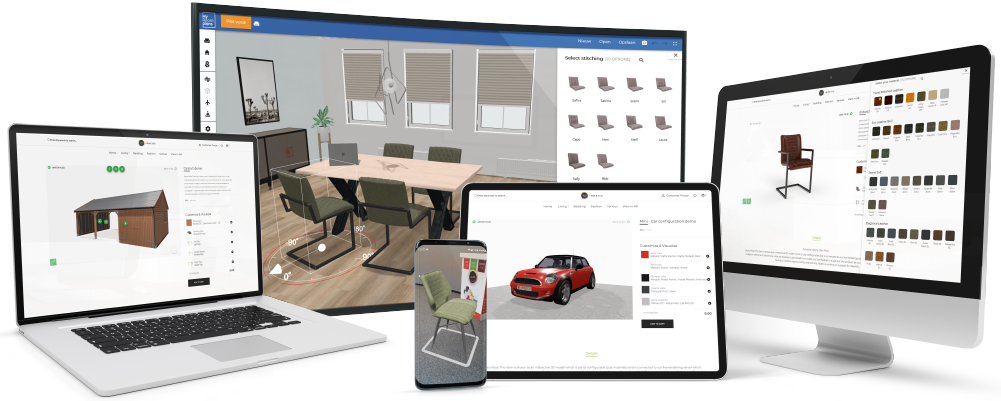 Augmented Reality is powered by our iONE360, a fully integrated product configurator. With the 3D configurator you can sit back and relax. Once implemented, the iONE360 Product Configuration Platform handles all the work. Customization, photorealistic rendering and impressive Augmented Reality features, including configurable AR, iONE360 can do it all. Thanks to business rules and guided selling, you don't have to worry about faulty orders or disappointed customers anymore. Improve customer experience and accelerate your business with iONE360.
Let's explore what iONE360 can do for you!
Stay way ahead of your competitors and start offering AR now! It's only a minor investment compared to the huge conversion increase. Let us show you with a free, personalized demo