Over the past decade or so, consumer confidence in ecommerce has grown. Buying online is the new norm, but many people still prefer shopping in-store. When it comes to big ticket items – such as sofas – a common barrier to both channels is shopper concern around quality and service.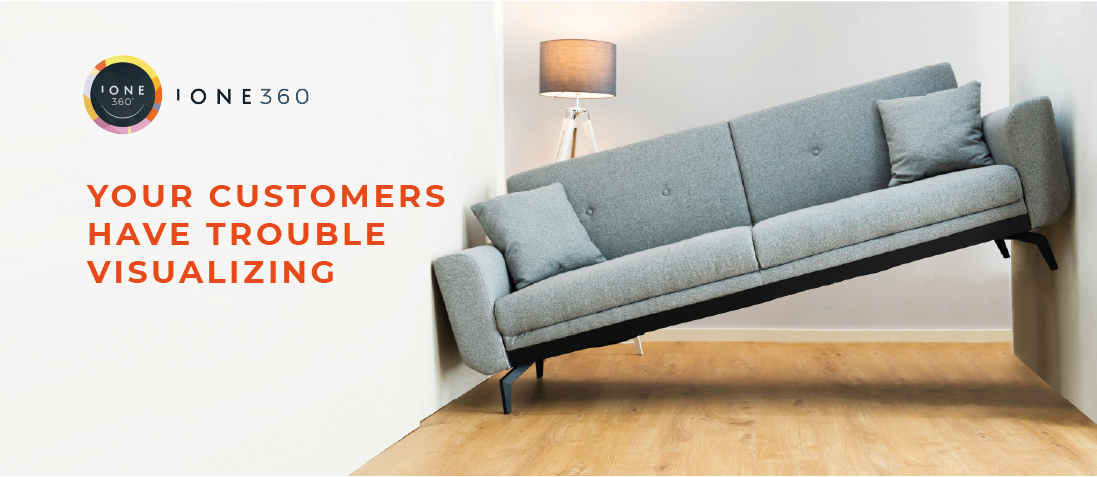 Over the past decade or so, consumer confidence in ecommerce has grown. Buying online is the new norm, but many people still prefer shopping in-store. When it comes to big ticket items – such as sofas – a common barrier to both channels is shopper concern around quality and service.
To that end, shoppers can often postpone or cancel the purchase of large and expensive items – such as a new piece of furniture or even an outbuilding. A determining factor is often that they lack confidence because it's difficult to visualise the item in the context of their home.
The answer? New technology which offers buyers a clear vision of their future purchase in context: photorealistic product rendering, product configuration, room planning, and Augmented Reality (AR).
Product visualisation, in all its forms, is exactly what we do at iONE360. So in this blog, we take you inside our visual product visualisation solution, and how it can benefit the bottom line of your ecommerce business.
Why We Do It
Especially in retail markets such as home furniture, it's not uncommon to have products with thousands or even millions of possible configurations. In furniture retail, manually handling multiple permutations of consumer choices, necessitates paper-based folders and binders containing different colours and fabrics.
Of course, holding up a small square of fabric in-store or at home is no real substitute for seeing the entire item in 3D, and in situ. And with this manual approach, there's much more scope for human error, especially in terms of colours, materials, and sizes.
Today, both retailers and manufacturers embed our software on their website and use it as the ultimate selling tool in stores to showcase their products. Why?
Most end customers – furniture buyers – have the same problem: the imagination gap. What do we mean by that? The inability to reliably visualise a large furniture product in its intended position, amongst other features of a space, such as wallpaper and existing soft furnishing.
From the retailer and manufacturer's perspective, if this doubt creeps in, it becomes a blocker to buying in around 50% of potential furniture sales. Providing a 3D visualisation, and using related technologies like AR, gives consumers the confidence they need when making a considered purchase. Even to the extent that they may not need to visit a physical store.
What We Do
As the saying goes – seeing is believing. Consumers like to see what they're buying, before they buy it. The challenge for retailers and manufacturers is how to facilitate that in the best possible way.
Gone are the days when one or two images and a product description are enough to make the sale. From a new sofa to a new dining table, product visualisation is fast-becoming a vital piece in the online consumer journey. iONE360 fills the imagination gap.
Our main goal is to help the end customers and elevate (online) shopping: We help customers make well-informed decisions. We make buying big ticket items a truly engaging, positive and confident experience. At the same time, we offer the ultimate sales tool for retailers and manufacturers.
So at iONE360, we started off our digital approach by bringing data to guided selling, itemising and clarifying the cost implications of colours and materials. Then we acquired a 3D software tool, which provided the perfect stepping stone to our current offering.
As a standalone application, iONE360 doesn't just give you the tools for an interactive and engaging front end. In a world where 'big data' is a key market differentiator, the software also follows ERP logic.
That means you get outputs in the language of ERP, aligning front end functionality with backend utility. This way, iONE360 offers manufacturers and retailers a visualisation platform that perfectly aligns within their supply chain, making it a truly integrated solution with advanced content distribution throughout multiple channels.
How It Works
Previewing a large piece of furniture, in context, can make a huge difference to both sales and return rates. Especially, when in most cases, manufacturers are unlikely to pre-manufacture every variation and combination of material and colour.
iONE360 is a product configuration platform. A single place where you set up your configurations and 3D models, from which you have countless possibilities to use it throughout multiple channels including: automated renders, AR, and an embedded 3D configurator in webshop. In fact, our interactive 3D configurator enables users to assemble highly complex mass-customizable products or furniture in 3D with ease, using a guided selling process.
With automated rendering, you can enable customers to view photorealistic images of any product, and every product variant. The great thing is that as soon as a new colour material gets added, the product image is instantly available. Not only that, you can use your 3D models to create engaging and interactive AR services – so customers can visualise products in situ.
It's also possible to track the customer journey from digital to physical. Let's say they use your 3D visualisation tool online, then click to book an in-store appointment to find out more. With our technology, sales reps can advise customers at home through a video call, using a camera and screen sharing. This enables them to provide better advice, which will inspire even more confidence for the consumer that they can safely buy. This enables the tracking and measuring of your product visualisation and its impact at the wide end of the marketing funnel.
For example, room planning works by customers providing measurements, and then seeing a visualisation of a piece of furniture in their space. The result? Retailers in the Netherlands using iONE360's report conversion rates of around 80%. It's clearly a powerful sales tool.
Why not see what our product visualisation platform can do for you? Book a FREE demo.