There's no doubt that seeing is believing. A 3D room planner is a great way to bring products to life inside an accurate representation of a real living space.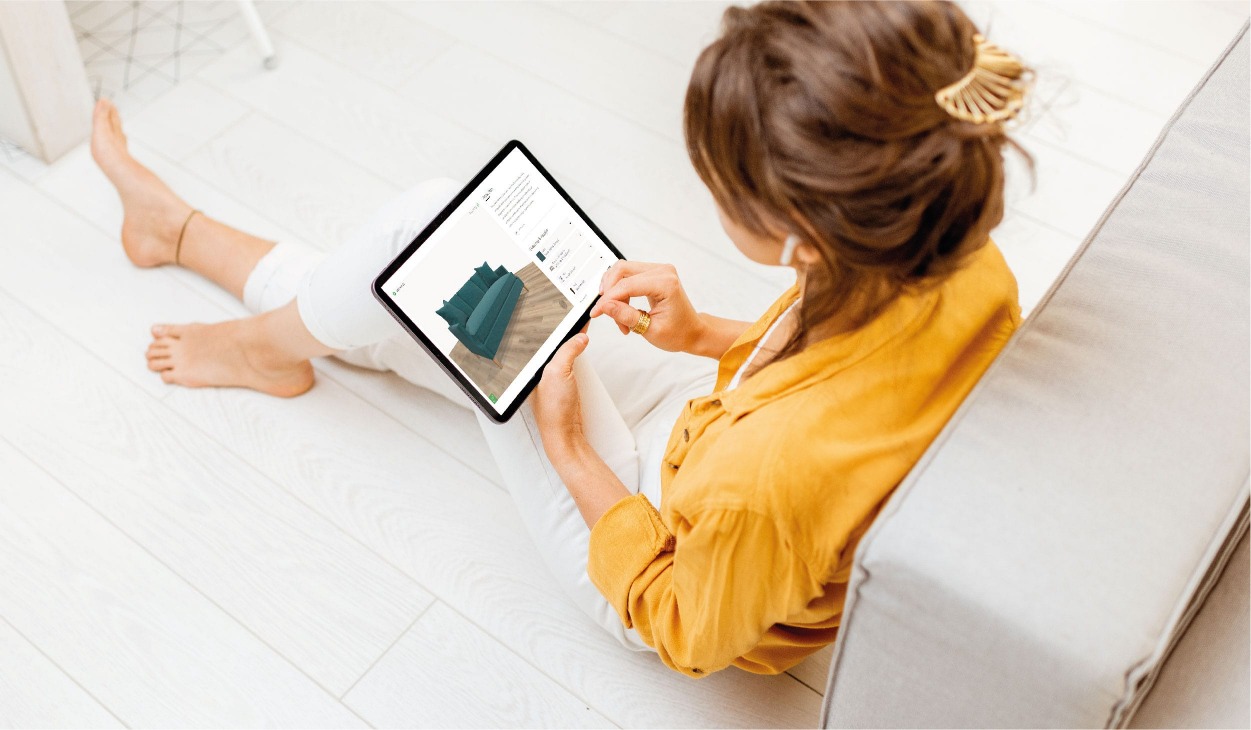 There's no doubt that seeing is believing. Especially with big-ticket items such as furniture, it can be difficult for customers to bridge the imagination gap and visualize a specific product configuration within their own home. To make the sale, retailers need to give buyers faith in their convictions.
Visual commerce is a great way to better inform and engage your customers – offering visual content to help them visualize your products. For instance, a 3D room visualizer can bring a product to life within the realistic setting of a home. It's also a powerful tool for guided selling, giving potential buyers the confidence they need to make a purchase. The fact is, better informing customers can boost sales. Here's how.
Let's imagine you're a consumer in the market for a new sofa.
There are plenty of online and physical stores you can visit and browse. So you do the research. You slowly narrow down your options. You like the look and feel of a particular sofa, but how do you make sure it's the right one? Online, photos and customer reviews – maybe even a slick product video – give you some idea of what to expect in terms of quality, and how it might look in the context of a room. But is that enough to convince you to buy?
Studies show that for 51% of potential buyers, the answer is 'not yet'.
So the choice is simple. Take a risk and buy pretty much sight unseen – and risk the complicated and expensive process of having to send it back to the store – or take a trip to a physical store. Inside a well-lit showroom, you'll get a much better look at the product, you can even test it out. Chances are you might even see it in some kind of context – alongside other pieces of furniture in a living room set. But it's not your living room.
In store, you can almost certainly get a good idea of the look and feel of the item, but there's another problem. The store doesn't stock every color and configuration of your chosen sofa. So you're halfway along the buyer journey, and now you've hit a roadblock. What do you do? There's still an imagination gap to fill. You like the sofa, but you're not sure which color and fabric to choose, or what the entire sofa will look like in a particular configuration.
There's also another question playing on your mind: will your chosen fabric suit the room? You can take a small sample home with you. But is that enough to help you make up your mind?
Unable to properly visualize the product in their own home, 36% of consumers decide not to make the purchase.
Let's say you love the fabric and style so much, you just go for it, and make the purchase. There's inevitably a long lead-in time before it can be made and delivered. During this wait, doubts creep-in. Have you made the right decision? Is there one in another store which might be better? Should you cancel and wait for the sales to find a better deal?
You stay strong. The sofa arrives, and then something unexpected happens. Maybe the delivery team can't put it in the right place, because you haven't measured up accurately. Or perhaps you unwrap it and immediately realize it doesn't quite go with your color scheme. It doesn't work with the carpet color. It clashes with the wallpaper…
You're now one of the 42% of buyers who regret their choice after purchase.
And you're faced with the unenviable task of returning it. Stay calm, and good luck!
With a powerful visualization tool like MyRoomPlans from iONE360, customers don't have to imagine. They already know. How? Let's take the same example: you're a customer, searching for a new sofa.
Whether online or in-store, you visit a retailer who uses MyRoomPlans. It's web-based, accessible on any device, and designed to be intuitive to use for customers and sales reps alike. Using this tool, any living space can be precisely recreated with lifelike details – including actual photos of windows and doors.
Having taken down the relevant measurements, in no time at all, you've built a digital twin of your living space, with the correct shape, flooring, and wall colors. In fact, according to Marlou Deurloo, owner of furniture retailer Ladela, "In less than half an hour, you already have a very clear picture of the possibilities for furnishing your room."
Now, all you need is your desired piece of furniture. Picking from the retailer's product catalog, you select your chosen sofa and add it to the room. Here's the fun part. You're now going to combine product configuration with room planning to create lifelike 3D visuals!
Furniture items can be rotated, placed anywhere, configured and adjusted wherever necessary, until everything is completely to your liking. Now you have a hyperrealistic picture of how the sofa fits into your interior in terms of size, and color. Plus, you know that if it doesn't fit in the virtual room – you know it won't fit in real life. Feeling more confident to make the purchase?
If the answer is 'yes', you're one of the 55% of consumers who say a visualization tool would help them make the right choice.
"In at least 80% of the cases, the design results in a concrete order." – Marlou Deurloo, Owner, Ladela
There's no question that combining 3D room planning and product configuration is an ideal way to bridge the imagination gap and give potential buyers expert and reliable information. By being better informed, people are more prepared to make the leap and proceed with a big-ticket buying decision.
Visualization can also support retailers with their guided selling processes. But by offering online consultations and a free 3D room design, sales reps can build better quality customer relationships that lead to more conversions.
iONE360 has a suite of product visualization, configuration, and room planning tools to help customers bridge the imagination gap, and retailers to boost sales. Explore our solutions.
Sources And Further Reading: