Both online and in-store, forward-thinking retailers and product manufacturers are catching on to the business benefits of 3D visualization.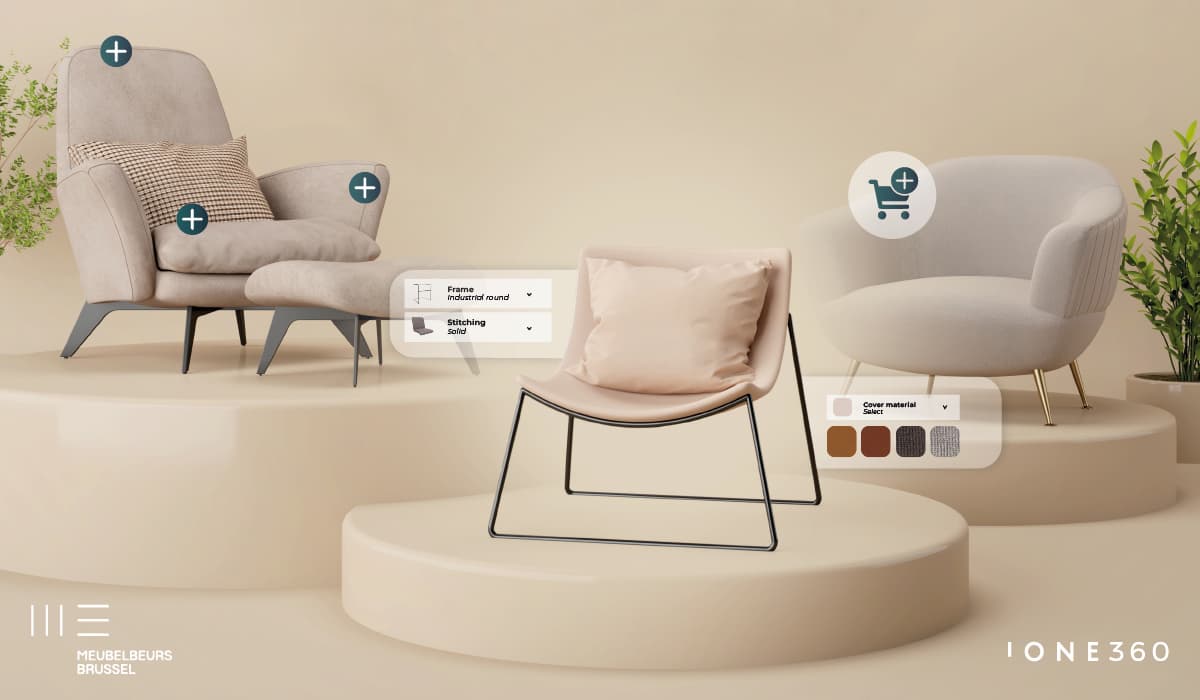 Most furniture manufacturers and retailers see the value of using 3D visualization techniques online, like placing a 3D configurator in a webshop. That's a clear concept. But many furniture brands are missing out on the added value of using 3D visualization techniques at trade shows or in store.
Retailers know first-hand how customers struggle to bridge the imagination gap. It's in the physical environment that furniture brands can really thrive by introducing the right product visualization technology to meet their customers needs. Here's how to implement 3D visualization techniques at trade shows.


The benefits of 3D visualization at trade shows
Trade shows are some of the most exciting events in the furniture industry calendar. Furniture companies devote time, energy, and resources to showcase their products in the best possible light. Furniture suppliers, which already have a clear strategy for deploying 3D visualization tools across their dealer network and resellers, can leverage additional value from the same technology at trade events. 
Many furniture brands can rightly claim to be innovative in terms of design, but fall behind the curve when it comes to their use of technology. Just like consumers, it can be a challenge for the retailers to bridge the imagination gap to see what 3D visualization could look like at trade shows or in stores. So here are some practical examples:
Before the trade show
Imagine this scenario. You've made a new collection available in a product configurator. Prior to the fair, you promote it through various marketing channels, so that your buyers can already get an idea of the collection and all the available options, with a call to action to see it in-person at a trade fair. Just like the consumer, retailers also need to be able to visualize a product.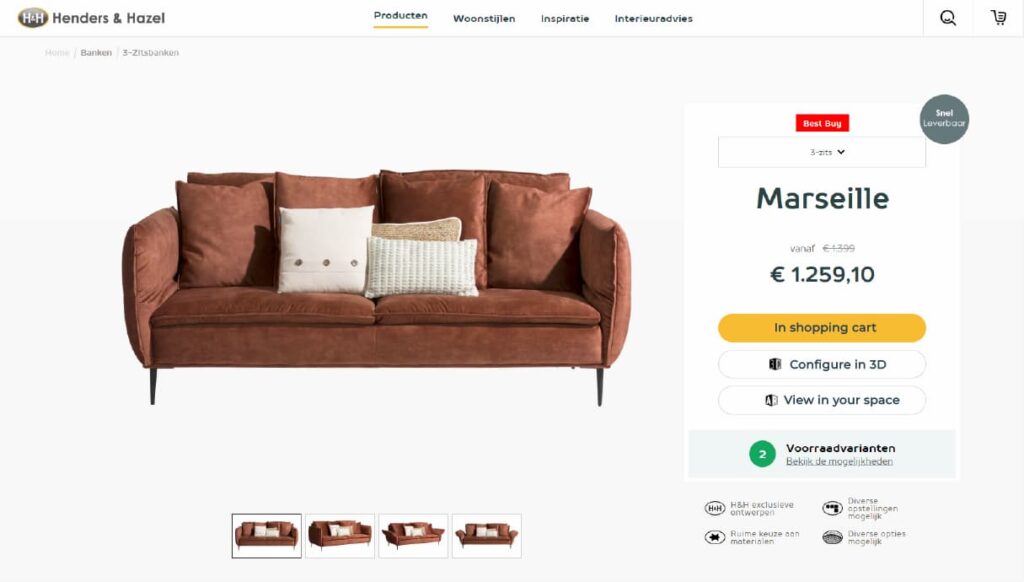 During the trade show
Stands at trade shows are expensive. That's especially true when you need space to display large furniture products. So what if you could have less space yet showcase more products?  3D visualization makes that possible. 
Rather than filling a large exhibition space with multiple pieces of furniture, you could bring one piece of furniture and some sample fabrics, alongside a digital product configurator. This setup requires a smaller footprint, and enables visitors to virtually explore the product in every possible variation, interact with a real-world product, and view different fabrics in both digital and physical forms.
Product visualization tools give retailers a much clearer and accurate picture of furniture products, so they can make an informed decision about which items they'd like to stock.
They also help a furniture brand to stand out from the crowd, especially when technology such as AR and VR – both made possible through iONE360's platform – can give people a fully immersive experience.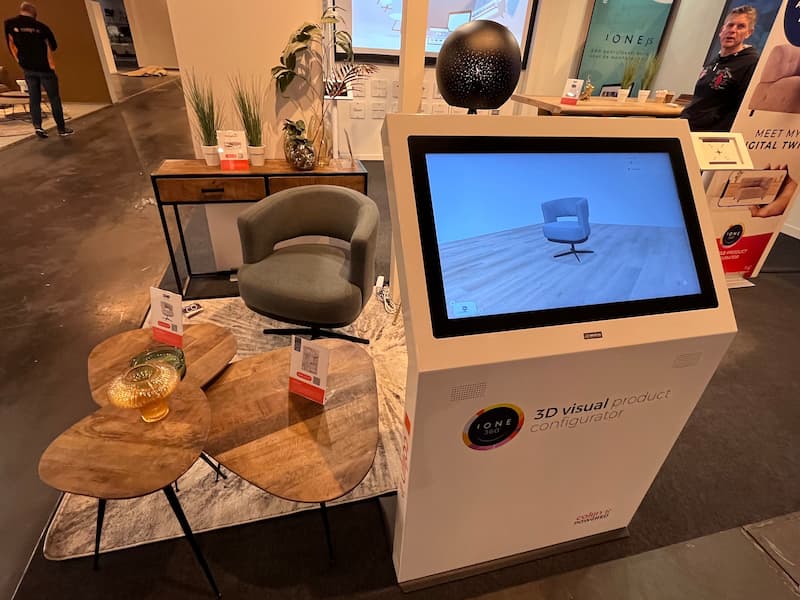 How to bring 3D visualization in store
Of course, it doesn't end there. After the trade show, when new collections are introduced in store, the same visualization techniques can be implemented to enhance the shopping experience, and support a guided selling process.
In fact, manufacturers with 3D models of products are just a few steps away from enhancing people's experience of their furniture in a retail store. Manufacturers usually have the 3D assets, but not the visualization tools. By sharing these 3D assets with a retailer or reseller, they can be easily used to leverage visualization tools. 
The great thing about 3D visualization is that either the manufacturer or the retailer can make the investment. Put simply, it's super easy to realize implementation of the tools in store, no matter which party makes the initial investment.
For retailers that already have access to their supplier's 3D visualization tools, introducing this experience can be as simple as setting up an iPad on stands beside a furniture display. Another technique is to use a large screen or monitor to display the visualization tool, enabling sales assistants to sit with customers and take part in a guided selling process.
Discover more by checking out our case study and video on Hoogeboezem.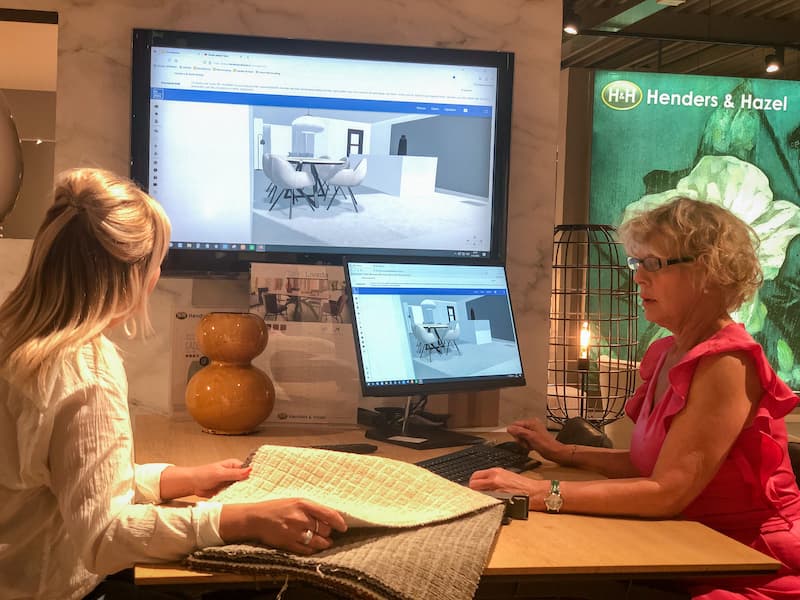 From a technical perspective, these approaches are simple to implement. In fact, with the suite of visualization tools inside the iONE360 platform – from product configurators to Augmented Reality (AR) – getting started in store is easy.  
iONE360 at the Brussels Furniture Fair 2023
What better place to share our vision of leveraging 3D visualization tools as part of an in-store concept for retail stores and trade fairs than Europe's leading furniture fair, held between Sunday 5th and Wednesday 8th November 2023 at Brussels Expo? 
Visit our stand to explore a concept store where 3D visualization techniques enhance the modern furniture-buying experience, helping brands and retailers visualize and understand how 3D tools fit into a modern shop concept and how incredibly feasible this is to incorporate. Not only that, we'll also be demonstrating our new and updated ERP system, initially available in the Netherlands and Belgium. We're excited to offer a sneak peek at our upcoming streaming service incorporating product catalogs and link directly to ERP systems.
Discover more about the modern shopping experience, and what the store of the future looks like for furniture brands. Visit us at the Brussels Furniture Fair, Hall P – Stand 032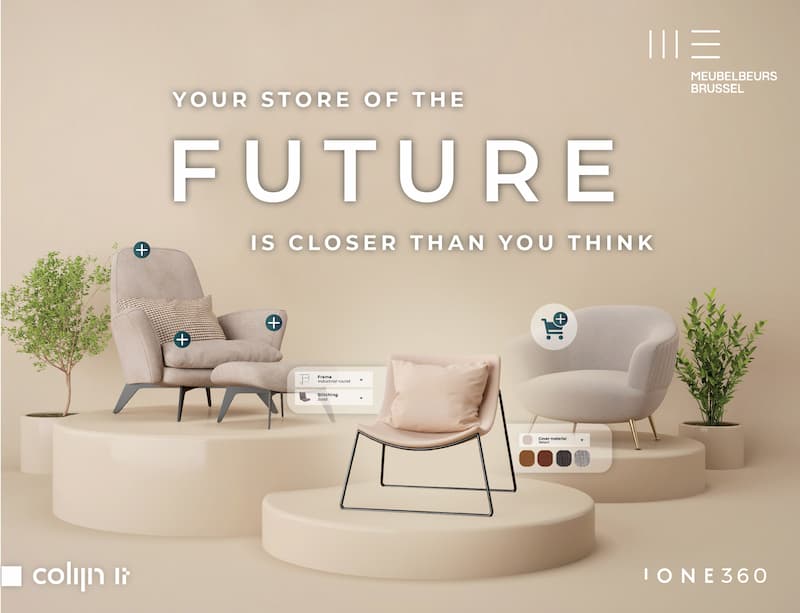 EXPERIENCE VISUAL COMMERCE
Try the 3D Product Configurator yourself