Creating a better future for ourselves and our children. That is what inspired Robert Milder to start looking for a sustainable solution to the huge amounts of plastic waste all around the world. The result is a leading collection of high-end design furniture, 100% made of waste and recycled materials. Judging by the number of website visitors, Robert's ideas were well received. But how do you promote such a product in a sustainable manner? And even more so, how do you inspire your online customers to actually convert? The iONE360 3D product configurator offered all Robert was looking for. And more.
Van de Sant was founded in 2018. A small company with huge ambitions. Van de Sant develops and produces sustainable design furniture, made out of recycled plastic. The furniture is fully circular. Every piece can be reprocessed into raw materials and re-manufactured into new design furniture.
Van de Sant aims to stop deforestation, reduce plastic waste in the oceans and create local jobs.
Robert Milder, originally graphic designer, always had an interest in sustainable solutions and experimenting with alternative materials. It was during a vacation on the Caribean that he literally found the inspiration to start working with plastic waste. "I was walking down the beach and there was litter everywhere. I said to myself, there must be something we can do about this!" He started working on a frame made out of plastic waste. The results were promising, but at that point, it was hard to find support from others. "Nobody believed in recycling yet. The furniture industry is quite traditional when it comes to trying out new things."

It didn't stop Robert however to continue working on his ideas. In addition to the frame, he also started looking for alternative seating and upholstery. It resulted in beautiful, comfortable furniture that could be used both indoors and outdoors. Initially, Robert didn't tell people that the furniture was totally made out of recycled materials. It wasn't until 2016 when people began asking about it and the circular economy became more popular, that he started sharing his story. 

Robert: "Our furniture is fully circular. All parts are made out of waste and residue materials. On top of that, all pieces are made in such a way that each part can be reprocessed and re-used in new furniture. This way, nothing is wasted nor dumped into the environment. Moreover, Van de Sant proves that sustainability can be both attractive and comfortable. The fabrics used have the same look and feel as traditional fabrics.
Do you want to discuss our solutions
with this particular partner?
"I was looking for a tool to configure furniture online.
The solution iONE360 offered was spot on."
Robert Milder | Van de Sant - owner
The big breakthrough for Van de Sant came in 2019, when Robert participated in the BBC show Dragons Den. All investors were so impressed with Robert's story, that they were fighting to get into business with him. The show itself was viewed over 2.86 million times and on YouTube the video has already received 1.2 million views. The response after the show was overwhelming. Especially after the episode was released on YouTube, one year later. "Suddenly everybody wanted to work with us", Robert laughs.
After the show, the phone was ringing off the hook. But despite the huge number of visitors on the site, no orders were made. And then Corona came.  Up to that point, Van de Sant was mainly focused on B2B projects. When the pandemic broke out in 2020, practically all these projects were put on hold. Robert then decided to start focusing more on the consumer market.

This move, however, demanded a different approach. How can you showcase what you sell online? What do your products look like, what's the price and how do you convince your customers to actually buy? In other words, how can you help your customers buy?

To promote his products in a sustainable manner, Robert decided to set up a webshop with the possibility to configure his furniture in 3D. Robert: "I was looking for a tool to online change the fabrics on furniture. I went googling and ended up with iONE360. Their solution was spot on. And the people I spoke to understood exactly what I was looking for."
Inspire website visitors to convert
More focus on consumer market
No consumer models available
Showcasing products in a sustainable and appealing manner
Possibility to configure products online and in 3D
Offer the best customer experience
"The people at iONE360 not only have the technical know-how and experience, they are also very co-operative and always willing to try out new stuff."
Robert Milder | Van de Sant - owner
Choosing iONE360 was the easy part. Setting up the webshop turned out to be a bit more complicated. "We weren't focused yet on the consumer market. So we had to make all kinds of models, without knowing what the market needed. That made the process rather challenging. But the final result turned out better than I ever expected. What I had in mind, was a static 2D image of a sofa or chair from which you could change the color. Instead, you can now configure entire sets, change fabrics and frames and, on top of it all, view the product from all sides in 3D. That's just awesome!"
In the meantime, Robert also had a connection in America. "A couple of years ago I got a message on Instagram from a woman named Emily. She had been following me for a while and asked me if I was interested in working together. She turned out to be Jackie Jackson's wife." This rather surprising invitation resulted in a great and inspiring cooperation. Robert and Jackie decided to set up a homestyle brand with sustainable furniture, textile and other articles, all made of recycled plastic. They named the brand Hayvenhurst, just like the former home base of the Jacksons.
The Van de Sant website is live since December 2021. The Hayvenhurst site will be live mid 2022. Robert: "What I like most, is that we managed to inspire somebody outside the furniture business with our products. Thanks to Jackie the concept of sustainable furniture and circular economy is now also introduced to many other artists in the music industry."
Webshop with 3D product configurator 
Possibility to configure, customize and show all models online 
View products from all angles with the 360 viewer 
"Now you can configure entire sets, change fabrics and frames and, on top of it all, view the product from all sides in 3D. That's just awesome!"
Robert Milder | Van de Sant - owner
Create a sustainable future together
Becoming the most sustainable brand in the furniture industry. That is what Robert has in mind. But even more so, he wants to contribute to 'de-plasticing' the world.

"I have a four-year-old daughter. When I think of the future that lies ahead of her, it makes me rather sad. I cannot change the world just by myself. But I do have a product that is at least part of the solution. I do what I do because my mom inspired me to never give up. That's why I named my company after her." Robert hopes that his story will inspire others. "I am convinced that circular economy is the future. Many talk about it, but only few really go for it. Just do something. Give it try! If Elon Musk hadn't believed in what he was doing, we would still be driving in gasoline cars."

"At the moment our entire production is based in the Netherlands. The same goes for all the materials we use for our furniture. In the long run, we want to set up production lines all over the world. Locally organized, with local manpower and local materials. Thus creating local employment and reducing the carbon foodprint. Waste is everywhere. So the possibilities are right there in front of our eyes. And we need to join forces. Only by working together, we can create a better future. For ourselves and for our children."
Each piece of furniture consists of approx. 25 kg of plastic. Bigger pieces contain even more. Each model comes with a certificate, stating where the plastic was collected. The bottom of each item is left open, so you can see what material the furniture is made of. And as a token of sustainability, Van de Sant has introduced 'the green leg': One green furniture leg on each item. A symbol for contributing to a better future.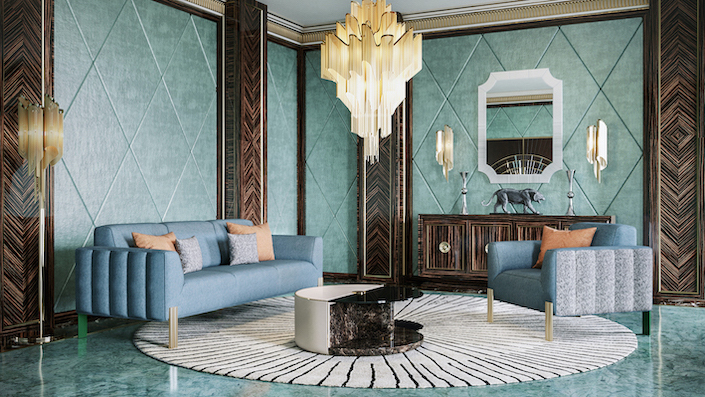 ENVIRONMENTAL IMPACT OF EACH VAN DE SANT ITEM
approx. 25 kg plastic waste per item
approx. 50 kg CO2 reduction per item
approx. 8000 liters of ocean water 'saved'
approx. 5 kg reused materials per item
What the customer says about us
Why did you choose us as a partner?
"iONE360 offered exactly what we were looking for, and more. An online product configurator, with the possibility to view the product from all sides and in 3D. On top of that, iONE360 offers all kinds of additional features for future references, such as AR and VR."
What is your experience (so far) in our collaboration?
"Working with the iONE360 team has been an amazing experience. We haven't been the easiest to work with. Since we had to build it all up from scratch, we asked a lot from their time and patience. But the entire team has been a fabulous sparring partner all throughout the process. And we are still learning and growing together."
What do we offer you which others can or do not?
"The people at iONE360 not only have the technical know-how and experience, they are also very co-operative and always willing to try out new stuff. This way you can make each other stronger."
What results can you report (so far)?
"The webshop is online, so step one is completed. From this point on, we will continue to grow and develop new models and new ways of presenting our products."
What results do you expect to achieve through our collaboration?
"We are convinced that the circular economy is the future. That's why we chose this path. Many people talk about sustainability, but only few actually do it. We can guarantee sustainability. So we want to share our story and inspire others. To reach out to the world, our website and online presence is crucial. We are open to try out all new online possibilities and presenting techniques and would love to be a part of that development."
Want to know more about visualizing your products in a sustainable manner?
Discover how our solutions can strengthen your business and drive your sales to new heights.