What is what in visual commerce?
A guide to the most commonly used phrases in visual commerce
Definitions, benefits & examples
As crazy as this may sound, there was a time when there was no internet. When you had to grab an encyclopedia to look things up (and no, not Wikipedia, but a printed one!). And you actually had to go out and visit a store to buy something.

What a different world we live in today. The past couple of decades, things have changed radically. And so has our shopping behaviour. Although it is very unlikely the physical store will disappear completely, online shopping has been booming business. And it continues to grow with the speed of light.

But how do you connect with your public in a virtual world? How do you engage your customers and build their trust? How do you offer them the best online shopping experience? How can you give your buyer full information about your products? And how do you meet customer expectations when it comes to product visuals?

The answer is visual commerce. It's a bare necessity in today's fast-paced eCommerce market. And a powerful way to stand head and shoulders above the competition. It's not easy to keep up with all the developments in this visual economy. Let alone understand all the terms and techniques involved. So we have set up this handy document for you in which we walk you through some of  the most commonly used  phrases in visual commerce. To help you get a better understanding of the different terms and put all of these concepts in the right perspective. Are you ready?
"In the future, it will be critical for furniture brands and retailers to offer the customer added value at every touchpoint of the customer journey. The store of the future will be smaller, so the biggest challenge for retailers in the not-so-distant future will be in transforming to an experiential store through technology. Customers are looking for relevant, engaging experiences that help them visualize the product and ease the decision-making process, not just interactions that only have the goal of 'wowing' them."
Visual commerce (or visual marketing)
Visual commerce (or visual marketing) is the concept of enriching customer experience with powerful, inspirational, and appealing visual content that encourages consumers to learn more about and connect with products and brands. By showing how these products and/or services can be used in real life customers can form a preference for a brand or online retailer. The pillars of visual commerce are multi-angle product images, engaging product video galleries and authentic user-generated content, combined with virtual and augmented reality, displayed on brand websites and social media platforms. By integrating visual content and shoppability tools, the visual content is made shoppable and leads users directly to the product pages on the brand website, which will directly affect online conversion rates. Making visual content the centerpiece of e-commerce experience helps close the gap between product and consumer and between in-store and online.
E-commerce (or digital commerce)
E-commerce can best be described as the buying and selling of goods and services over the internet by means of computers, tablets, smartphones or other devices. E-commerce (or digital commerce) enables customers to purchase goods and services through an interactive and self-service experience. It includes the people, processes, and technologies to execute the offering of development content, analytics, promotion, pricing, customer acquisition and retention, and customer experience at all points throughout the customer buying journey.
Social commerce refers to using the different social channels, such as Facebook, Instagram, Pinterest, Twitter, Snapchat, YouTube, Messenger, email, etc. as shoppable storefront to do product research and shop online.
A visual representation of products, generally by means of product photography or rendering, in order to show products online and on various devices. In addition, 3D product visualization is the process of creating a digital copy (digital twin) of your physical products. Generally, this is done in order to use these visual assets to create appealing and engaging (online) experiences for customers, such as visualizers with photorealistic product renders or interactive 3D configurators.
Content strategy can be defined as a strategic marketing approach that involves creating and sharing valuable, relevant and consistent online material (such as videos, blogs, and social media posts) with your prospects and customers that helps them solve their issues, intended to stimulate interest in your products or services and, ultimately, to drive profitable customer action.
The customer journey describes the path of sequential steps and interactions that customers go through with a company, product and/or service from the first time they encounter a brand to the time they make a purchase up to being a true ambassador. Though you might find different descriptions, in general we distinguish five steps within the customer journey: awareness, consideration, purchase, service and loyalty. Studies have shown that the right use of visual content will stimulate the customer to move quicker through the customer journey and into conversion. On the other hand, disappointing visual content might drive customers away. The quicker a customer goes through the customer journey, the bigger the chance he will actually make a purchase. Therefore, in the first stages of the customer journey, it is crucial to offer the customer plenty appealing images, engaging video's and mind blowing 3D experiences such as VR and AR. It is within the last stage that all your effort starts to pay off and customers start creating and sharing content about your company and their positive experiences on public forums, also known as UGC.
Guided selling is a sales process, usually implemented as software, designed to guide sellers through the entire sales cycle and increase pipeline visibility, enabling to close deals faster and make less mistakes.
CPQ (Configure, Price, Quote)
Guided selling is often combined with CPQ (Configure, Price, Quote), a digital sales process where customers are guided step-by-step through the selling process, helping them to choose and select their dream product (configure), calculate the optimal price as they go along (price), and produce a quote (quote). Based on preset business rules, it's a fast, controlled way to supply quotes with fewer errors and greater accuracy. It gets more deals moving through the sales pipeline and helps build strong customer relationships.
The definition of CTO (Configure to Order) is a digital manufacturing process where products are assembled and configured out of a certain set of options, according to customer requirements. Depending on the type of product and variables, the number of possible configurations are endless.
The blanket term for all product imagery, such as high-resolution photos, videos, GIFs, multi-angle shots, 360° views, in-action footage, and user generated content (UGC).
User generated content (UGC)
UGC, also known as consumer generated content (CGC), is unpaid, unfiltered, authentic, published information of real people using real products in the real world, posted on different social media platforms.  The information might be a photo, video, blog or discussion forum post, poll response or comment made through a social media website. It consists of both visual and textual online reviews from past customers about their past purchases, giving insight to future clients on the buying experience. UGC is a very potent way to market your brand. It helps to build trust, showcase reliability, inspire consumers and boost conversions.
Putting the product itself in the center of attention, showing what it is, what it looks like and what it does.
Showing how your product fits into and builds upon your lifestyle and picturing where a product could take you, literally and figuratively speaking.
Using visual images to share ideas, beliefs, personal experiences, and life-lessons that evoke powerful emotions and insights.
A computer generated, high quality image which can hardly be distinguished from real photography. The input for the computer to be able to create a render, is one or multiple 3D models as well as a 3D scene for the environment. The render can be based either on reality, or it can be completely fictional as well, even though the end result looks completely real. For instance, a photo-real image can be created of a product which does not physically exist in a space that does not exist (e.g. your bathroom visualized in the house you will be building next year).
Product
Rendering
is a digital alternative to product photography. It allows to change textures and materials, product design details, get multiple lifestyle scenes and show the object from different points of view – without producing a physical prototype. Photos and drawings are great base to show all CG possibilities and save Manufacturers plenty of time and money. This way, CGI makes product development and marketing more flexible and customer-oriented.
A process by which 3D renders are created manually by combining models, components and materials within specialized software. For each and every possible variant, each configuration and every material or color, this process is repeated.
Automatically generated digital photos of every possible combination of a product, based on pre-made images of all models, components, elements, materials, and features. In this case, all pre-made images are uploaded to the system and displayed whenever a customer configures that particular combination.
With this groundbreaking technique the product image is composed while the customer is configuring, fully automated and within seconds. And only on demand, so the image is made 'live' if it doesn't exist yet. Previously created product renders are saved, so that each image only needs to be created once.
Computer Generated Images (CGI)
CGI, also known as 3D rendering, is the process of digitally creating the highest quality, three-dimensional images of spaces and/or products. Even the finest details can be shown, from colours, fabrics and finishes to shading and lighting, which give a true representation of the design. With regard to interiors and exteriors, it is even possible to show precise distances and specific measurements between furniture, doors and windows. The quality of CGI images is so realistic and precise, you cannot tell the difference from a traditional photograph. Utilising CGI also makes it possible to explore different design options and make changes early on in the design process, eliminating any possible issues later down the line. CGI imagery helps customers to fully understand the product or design and visualize the end result in incredible detail. This will help to avoid disappointment and material waste and create maximum customer satisfaction in the end.
Physically Based Rendering (PBR)
Physically based rendering is a collection of rendering techniques, using realistic shading and/or lighting models along with measured surface values to accurately represent real-world materials. The result is near to perfect, creating beautiful, highly realistic images that can hardly be distuinquished from real photographs. By using physical parameters, materials will look correct regardless of lighting conditions. For example, showing metallic or velvet fabrics.
Virtual product photography
A virtual product photograph is a highly realistic 2D or 3D computer generated image, or CGI. When done well and with the right tools, the final result cannot be distinguished from a photo taken with a camera in a traditional photostudio. First, a model is built, based on sketches, photos, samples or existing CAD files. Then shadow, color and texture are added to create a photorealistic image. All with the idea to make the potential customer connect with the product.  
There are several reasons to choose virtual product photography over traditional studio photography:
Scalability. Nowadays, online shoppers not only expect incredible visual experience, they also expect a significant amount of images of a certain product. In other words, online brands need to extend their product imagery in order to meet customer expectations. Regular product photoshoots are expensive and time-consuming, and need a lot of time behorehand and afterwards editing and planning.  To capture an entire product portfolio is almost impossible in a mainstream product photoshoot. Virtual product photography costs a faction of what you pay for a traditional photoshoot in less time. And even more important, customers cant' tell the difference!
Mobility. Over half of all online purchase are done on mobile devices. And this number will only increase in the years to come. Customers want to see what they are looking for, and they want it quick. Users pay more attention to visuals and take significantly less time to read any text. Stunning visuals of all product features will not only impress your buyers but will also boost your sales. And as a bonus, virtual images are so impressive that it's very likely happy customers will share your story! Without you having to do anything.
Likeability. In this digital world, where competitive products are easy to find, you need to engage your customers in such a way they don't even want to look any further. Customization is the key word. Unlike studio photography, computer-generated images, in combination with a product configurator, make it possible to personalize product images to ones needs and wishes in real-time.
Product configuration is the process of customizing a product to ones needs and wishes and to visualize the configured product in 2D or 3D, thus empowering shoppers to create the exact product they desire, and to buy with confidence. A product configuration tool is usually included as part of CPQ software, allowing to visualize and select your options as you go along. You can take product configuration to the next level, by integrating an advanced product configuration platform that offers features like:
Real-time product imagery updates
3D and AR product visualization 
Product customization and personalization options
Support for user-generated content (UGC) and clip-art
Automatic pricing updates
Support for complex configuration rules
The ability to manage your custom products independently
The process of creating a completely one-of-a-kind, unique and personal product, by embellishing a product with your own content. You could think of adding personalized text or images, but product personalization is not limited to that. Just some examples: engraved pen, monogrammed backpack, printed clothing, etc.
Product Customization is the process of altering goods or services to your own needs or wishes, choosing from a fixed set of options to create your desired combination. Customizable options are colors, elements and/or specific features. Product customization is found in furniture, clothing and accessories. For example, a sofa can be customized to your own wishes and preferences with a certain fabric type and leg style. In contrast to product personalization, customization doesn't result in one-of-a-kind items. It does, however, provide a personalized experience, within preset parameters.
A
3D configurator
is a digital tool which displays an interactive 3D scene which holds one or multiple 3D products/models. Users can manipulate the scene by zooming and rotating the camera to view the product from all angles and, in case of a 3D configurator, the product itself can be modified as well. With the help of a 3D visualizer, it is possible to change features of the design to see how it would look in different colors, shapes, sizes, with diverse textures, details, and more. These modifications are displayed in real-time, offering a very engaging experience for the customer who is in complete control of how the product is viewed. Highly advanced product configurators will allow a combination of both interactive 3D and live product rendering which offers the best of both worlds to the customer.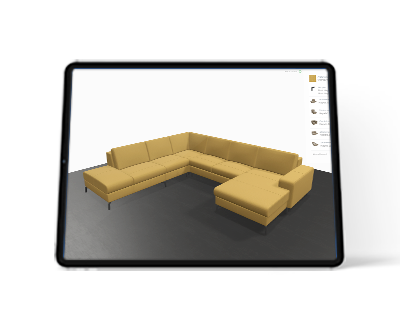 A tool that can be used to create floor plans and furniture layouts quickly and easily, allowing customers to showcase several items together and to manipulate the scene by zooming and rotating the camera to view the product from all angles. In more advanced roomplanners you can also configure the several furniture items on the spot, decorate the room, add curtains, wallpaper, flooring and see your design in 3D. A roomplanner is an excellent tool to get a realistic overview of the available living space and sometimes, by means of VR technology, even enables customers to actually walk through the finished rooms.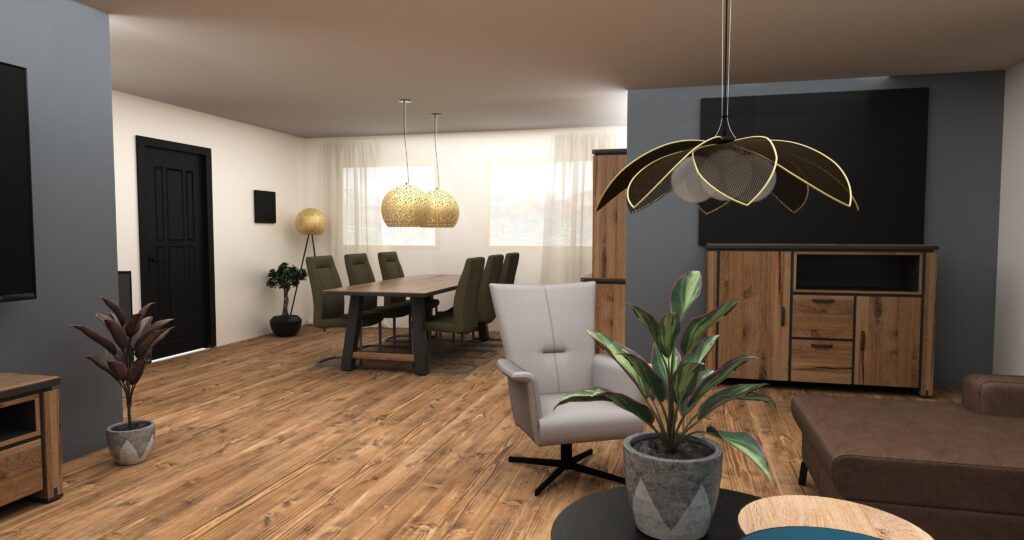 Augmented reality (AR) is a real-time, interactive experience, adding graphical imagery to the real world. It is this 'real world' element that differentiates AR from virtual reality. By adding a virtual layer, computer generated 3D images are projected into the real world, and projected on a screen, such as a smartphone or special lens. Apart from visual elements and graphics, also sounds, text or even haptic or somatosensory items can be combined with real-world objects. AR is a great way to showcase your product in 3D and try it in any environment.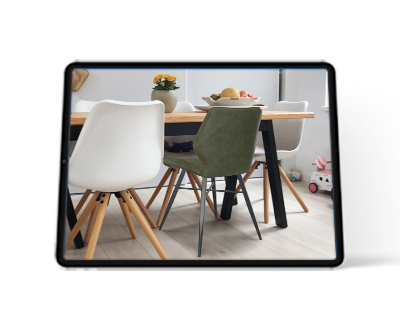 Virtual Reality
(VR) provides a computer-generated 3D environment, including both computer graphics and 360-degree video, that surrounds a user and responds to an individual's actions in a natural way by using special electronic equipment, such as immersive head-mounted displays and/or gloves fitted with sensors. Thanks to the latest techniques, it is now even possible to hold on to or even move objects within the virtual world by making hand gestures
Mixed Reality (MR) combines both AR and VR technologies, allowing to display digital objects in a real-life environment, allowing users to interact with those objects. First, a real-life scene or situation is displayed. Next, digital objects are placed within this environment. These object not only interact with the surroundings, buth with each other as well. Using a device, such as MR-glasses, the user can walk through such an environment, moving objects.
A technique that enables customers to view a product not just from the front, but turn the product 360 degrees. On  a white background or in an interior design, without the need of any additional software or device (such as special glasses). Allowing to see a product from all sides, takes away all doubts and makes sure there are no surprises when the product arrives. Thus, a 360-degree product view helps build customer confidence and supports customer satisfaction.
WebXR, also known as Immersive Web, refers to Extended Reality (XR) technologies, such as Augmented Reality (AR) and Virtual Reality (VR), applied in web applications. It's a technique to experience the virtual world hosted through the browser, without the need of downloading apps and. WebXR can be used on practically all devices and is best suited for specific or simple tasks, whose main objective is to reach a larger audience in the shortest time possible. WebXR is both effective and cost-efficient, as app development is more expensive than web application development. To give you an idea, WebXR makes it possible to explore a 3D model of your future car in a virtual salon, including experimenting with various models, colors and materials, without downloading anything nor physically going to a salon.  You simply use a web app of the car dealer and continue from there. And this works for all customizable products, such as a car, furniture or clothes.
WebAR, short for web-based augmented reality, is a digital technology that allows you to easily share AR experiences right over the internet, without the need of any app. Users can access AR experiences directly from their smartphone using the native camera and mobile web browser. With this technology, you can bring a product label to life (even if it's in print) or add a fully interactive product demo right on the back of your business card. This seamless user experience is one of the main reasons WebAR is rapidly growing in popularity. Studies show that, by adding interactivity to your visual content, the message will be up to 80 percent stickier in the user's mind. That fact, combined with the ability to share AR content right from your own website, represents an enormous opportunity to gain so much more out of your content strategy. There's no longer the need to send users to a third-party site like Facebook, Snapchat or TikTok; you can launch WebAR experiences from any URL of your choosing.
WebVR, short for web-based virtual reality, is an open specification which makes it possible to experience VR in your brower, without the needs of an app or a powerful computer. The idea behind this is to make VR more accessible, no matter what device you have. And if VR is available through an internet browser, then anybody virtually can enjoy it. Therefore, WebVR development is not only making virtual reality more accessible, but cheaper as well.    Recently, WebVR has been replaced by the WebXR device API, which has wider support, more features, better performance and supports both VR and AR. 
Well, there you go. Your introduction to visual commerce and all the terms and definitions involved. Hopefully, this gives you an idea of what visual commerce is. And even more so, what visual commerce could do for you and/or your business!
Find out what we can do for your to help boost your e-commerce