3D roomplanning and product configuration software

"A strong tool resulting in high conversion rates and higher order value"
This use case describes the realization of our 3D roomplanner integrated with our iONE360 visual product configurator, which we have developed in tandem with a large European furniture manufacturer: HABUFA. It highlights key aspects through which the application sets itself apart from the competition and ensures competitive advantage for our customer. We are also happy to share with you the first (commercial) results so far.
Every day the world gets more and more digital, shifting decisive moments in the buying journeys of our end-customers further to the online realm. Furthermore, these end-customers are increasingly demanding regarding available product information and they are looking for ways to express themselves by buying products that fit their lifestyle and taste. How do we respond to these developments? How do we enable our dealers to remain relevant in years to come? How do we make our products more sellable for sales agents and increase our market share?
Do you want to discuss our solutions
with this particular partner?
"We were looking for a partner with a history of proven and successful software products. A stable partner with ambition to grow and develop in our industry with innovative software driving digital transformation processes."
Use the iONE360 visual product configurator to create the full product range of 2 major brands as fully interactive and customizable 3D products. Furthermore, enable users to combine multiple customizable 3D furniture models in one scene in the context of a "digital copy" of their home environment. In other words: create a 3D roomplanner where all products can be combined and customized in the customers' living room.
Additional requirements for the 3D roomplanner:
The solution should be lightweight, run in a browser and on all devices.
Realism is key. This holds true for the products but also for the visualization of the rooms.
Even people with hardly any computer skills should be able to use this without any training.
The product data should be logistically correct in order to enable users to order these products.
Users should be able to order products individually as well as all the products which are in the project at once.
Deliver a future proof platform that can cope with the continuously changing product ranges, fabric catalogues, product options, etc.
Collect data of user interactions in order to be able to identify not only which models are popular, but also which customization options are selected in order to extract trends, best-selling options and eventually have the ability to forecast production.
Develop all requisite 3D assets (both models and materials)
Excite consumers with an unmatched in-store experience
Support dealers in their struggles to keep up with technology
Help sales agents sell our products
Expand market share, increase turnover
Strengthen our brands
The challenge was on to create a 3D roomplanner unlike any other. Not a tool that would require a degree in architecture, but something everyone can use straight away. This implies, first of all, that the UI/UX should be extremely intuitive and easy, but this also means that users should be able to access the application without any hassle. We needed to create a 3D application that runs directly in the browser, so users would not have to install an app and it should perform well on the average consumer devices. This was extra challenging considering the trade-off between performance and accessibility on one hand, and quality and realism on the other hand.
We had also identified that often projects made in other roomplanning software did not give the right feel in the end. Even though a space was drawn accurately in terms of measurements, it hardly came across as "your own space". We uncovered that this was due to the fact that floors and wall textures were selected from a library and, no matter how extensive the library, that just never includes your exact wallpaper or the tiles you have on your floor. Furthermore, we found that half of what constitutes the feeling of "your space" comes from the view that you have looking out of your windows. That is why we built ways for users to upload photos or images (from the web) to use that directly to create custom textures for walls, doors and floors. Furthermore, we have enabled users to place photos on custom sized windows which means that the view from inside the digital room matches the view that users have in reality.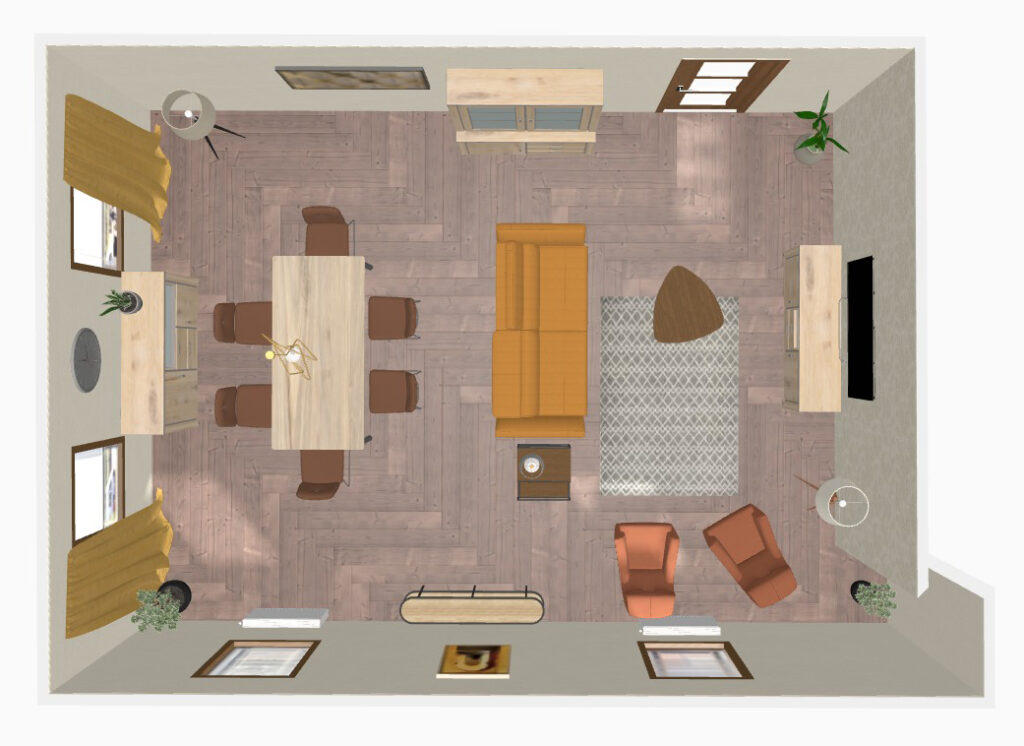 However, the most important feature for this roomplanner was of course the feature which would enable users to browse and select furniture, place it in the project and then configure and customize it to the desired form and style. After all, the aim of the application was primarily to help end-customers to bridge their imagination gap by visualizing how (customized) furniture would look and physically fit in their homes. In order to achieve this, we have developed a catalog which works very similar to what we see on e-comm platforms. This enables users to browse and filter furniture items in a way that they are used to. As a next step we have developed the features which made it possible to add multiple configurable products into one 3D scene, while retaining the possibility to configure each of these items separately. For customers, the possibility to see combinations of furniture, customized to their liking, in correct scale and context, is a completely new and greatly improved shopping experience.
STORY CONTINUES AFTER VIDEO
EXPERIENCE THE ROOMPLANNER YOURSELF
As cherries on top, we have included all kinds of additional features in order to enable customers to get the best possible preview of the products and take away any remaining doubts. We have included a top-down view for optimal space planning and incorporated a "walk-through" mode through which users can move through the project in first-person view.
Using cutting edge webVR technology, we've even managed to enable users to step into their newly created and furnished project in VR; straight from the browser! Although this feature is currently in beta-release phase, it further indicates how powerful and versatile the solution has become.
Last but not least, we have built in features for saving and loading projects (cloud and local). When saving projects to the cloud the user is presented with an easy code which they can store and share with friends and family. We have even made sure that, under the hood, all kinds of mechanisms are in place to be able to keep projects accessible, even after long periods of time despite likely changes in collections (i.e. options or complete models in the project might no longer be in collection). However, the reason why we've spent much time and effort on this feature is the prospect that customers can return after months or even years to add to or redo the planning of their room(s). Think about how powerful that journey becomes, when customers know that there is a digital twin of their living room readily available at your store. Who wouldn't start their next buying journey there?
More than 1000 configurable product models
Estimated number of possible variants: more than 50 million (50.000.000+)
Over 600 fabrics to be created as 3D materials
Hundreds of additional assets and decorations
"With the new 3D roomplanner, we have a strong tool which will attract a lot of customers to the stores of our dealers which will result in high conversion rates and more sales."
After a successful pilot phase with about 10 stores, now at the start of 2021 approx. 100 stores in The Netherlands are live with MyRoomPlans. During training sessions with the sales agents of the various stores, reactions were very positive; even people who call themselves "clumsy with computers" were able to work with our roomplanner in just a couple of hours. This proves that we have achieved our goal to make the user experience very simple and intuitive. Making sure that these sales agents are comfortable working with this application, greatly increases adoption rates and leads to situations where sales agents prefer to walk the customers over to products of these brands, because of the fact that they can show all the options in 3D, both in a setting with just the product and in full room context.
First results in pilot stores show that the commercial results are beyond expectations. Not only do conversion rates soar (one store reported almost 70% conversion rate for customers who were engaged in the roomplanner) and furthermore, the average order value multiplied (several times over) because of the up- and cross-selling opportunities within the application. Customers coming in for a sofa sometimes end up refurnishing the entire room, buying chairs, tables and sideboards as well.
At the moment of writing this article, we are on the verge of rolling out the roomplanner in stores in Belgium and France, reaching approx. 250 stores.
THE BENEFITS OF USING OUR 3D ROOMPLANNER
up to 70% conversion rate increase
average order value multiplied
thanks to up- and cross-selling opportunities
in The Netherlands, Belgium and France within one year
Why did you choose us as a partner?
We were looking for a partner with a history of proven and successful software products. A stable partner with ambition to grow and develop in our industry with innovative software driving digital transformation processes.

What is your experience (so far) in our collaboration?
Personal, passionate and effective based on in depth knowledge of our industry and clear project goals.

What do we offer you which others can or do not?
The personal collaboration in combination with the drive to develop software which, on one hand, improves organizational processes and, on the other hand, enables us to expand commercial activities and targets.

What results can you report (so far)?
In the past five years we have set up several challenging projects with you. All of them have been completed successfully, or are in their final stages.

What results do you expect to achieve through our collaboration?
Better and more efficient collaboration within our dealer network. With the new 3D roomplanner, we have a strong tool which will attract a lot of customers to the stores of our dealers which will result in high conversion rates and more sales.
Want to know more about our roomplanner?
Discover how our solutions can strengthen your business and drive your sales to new heights.