Even the tiniest imperfection in how your collections are presented can end up hurting sales of a furniture item. In fact, if your product pages aren't visually optimized, you could be turning away customers without even realizing it.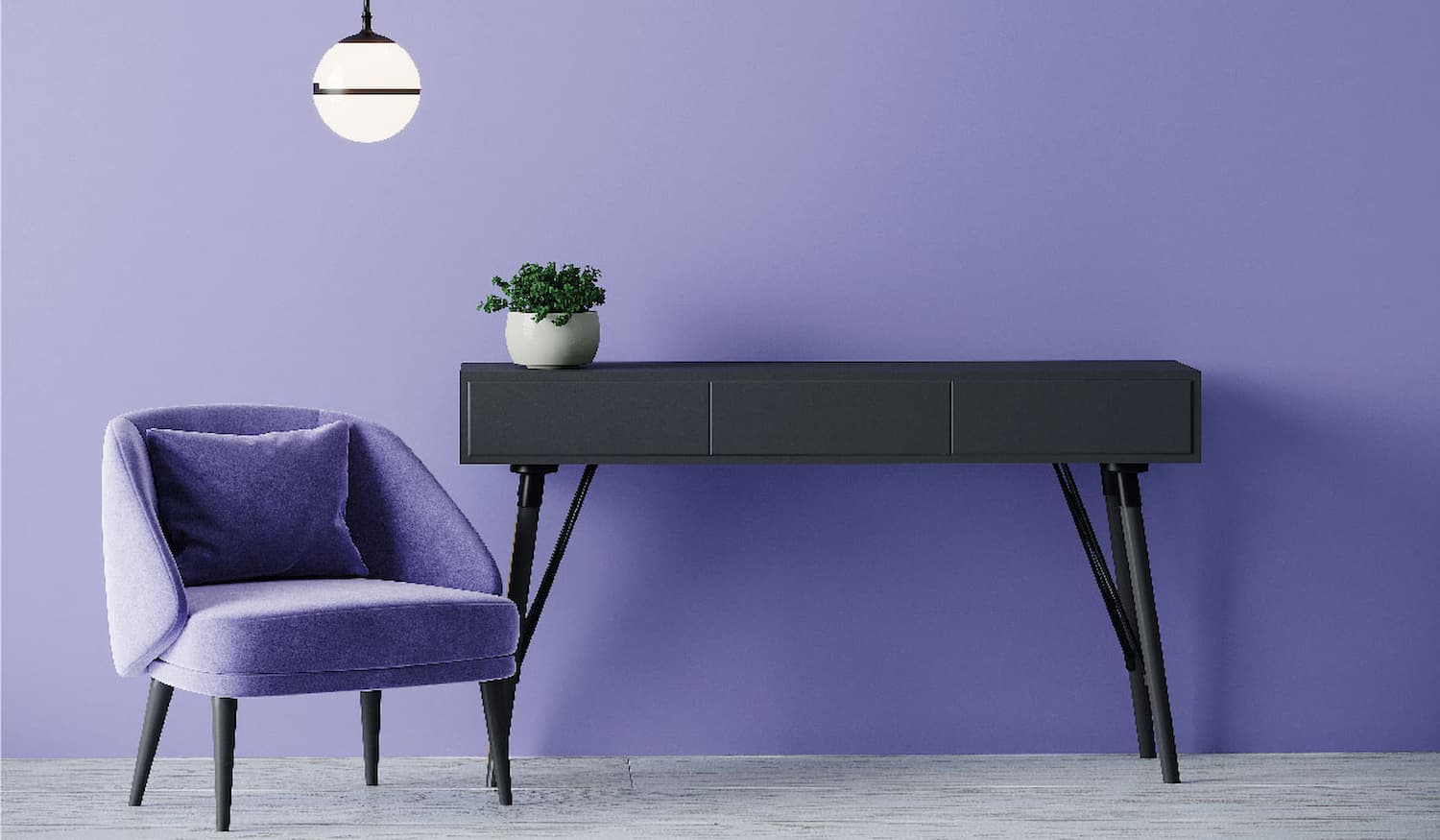 Even the tiniest imperfection in how your collections are presented can end up hurting sales of a furniture item. In fact, if your product pages aren't visually optimized, you could be turning away customers without even realizing it.
These days, online shoppers expect to be able to visualize, interact, and configure furniture products before making a purchase or heading to a store. Amongst other things, great product visualization gives people the confidence to buy.
When you deliver product visuals showing potential customers everything they want to see, you smooth the customer journey. But give them a poorly designed customer experience, and they might just go running to a competitor instead. 
The good news is that with the right visualization tools, it's easy to correct commonly-made mistakes. So here's what they are and how to put them right.
1 Low-quality images with no context
Webshops and product configurators usually present furniture products on a white background. This is great for focussing consumer attention on the product itself, but less helpful when people need to bridge the imagination gap and visualize how the product will look in their own home. 
When someone is looking to buy a large-ticket item – such as a sofa or closet – the details and the context are everything. Consumers need to be able to see the item in the context of a room – ideally their own. In the past, furniture companies used static images – photography – to showcase a product from every angle. They might even superimpose a product image in a mock-up room, using Photoshop. 
But this approach creates issues for both the consumer and the company. For one, photography on this scale is expensive, and if something changes, guess what? You need to photograph and edit everything all over again. 
With tools such as a digital room planner, people can see furniture in the context of a room alongside other products. This could be a digital twin of their own space or a generic room. Either way, it gives them a sense of how something will look in context and in relation to other items. They can also move items around to see how they look in different positions.
A room planner also cuts the cost of photography. Using 3D models of furniture, you can digitally photograph your collections within a 3D room yourself, creating high quality renders with the click of a button. And if you don't need an entire room planner, your 3D models can be used by a professional to create a custom 3D room, placing and optimizing each furniture product and render.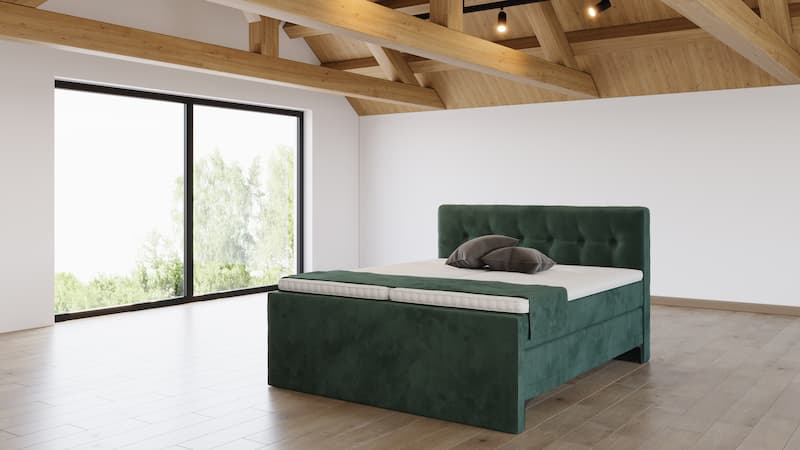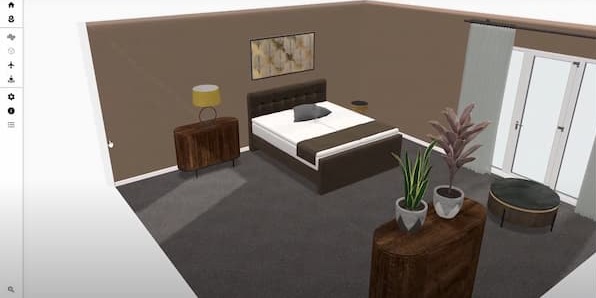 2 Not every variant is visualized
Imagine this. You're a consumer who's found a sofa you'd like to buy. You've chosen the color, fabric, and features, and you're edging closer towards making an online purchase. But to give yourself the confidence to buy – you just need to see your exact configuration visualized. 
But there's a problem. 
The webshop allows you to select different variations, but it only visualizes the product in a limited number of colors or styles – maybe only one – and unfortunately it's not the one you've chosen. Now you, as the customer, have work to do. You can see the product, you can see the color or style, but you really need to see both things together, and you can't. Now you're not so sure any more about making the purchase. 
Technologies such as a product configurator, and automated CGI rendering, enable companies to showcase every possible combination of a product to their customers. Using a web-based tool, customers can quickly and easily view their chosen configuration in just a few clicks.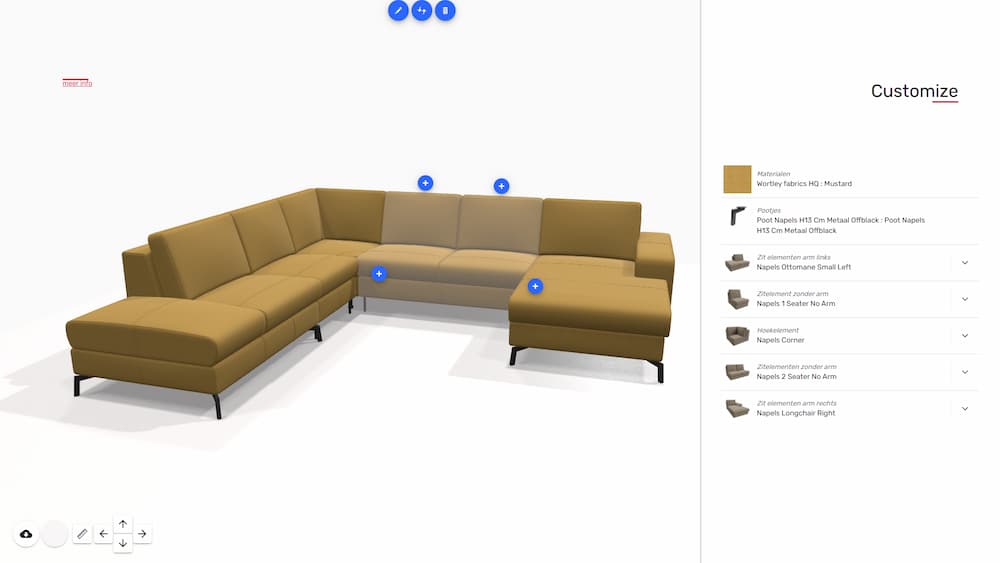 3 Only offering one type of visualization
Everyone is different, so it stands to reason that consumers want to see their potential purchase visualized in different ways before parting with their money. Some people are content with static photos of a product. Others prefer a more immersive experience using a 3D configurator, a room planner, or even Augmented Reality (AR).
Depending on which phase of the customer journey they're in, people prefer different ways of visualizing a furniture product. Providing consumers with a choice of visualization means you can give them the right tools at the right time in their customer journey.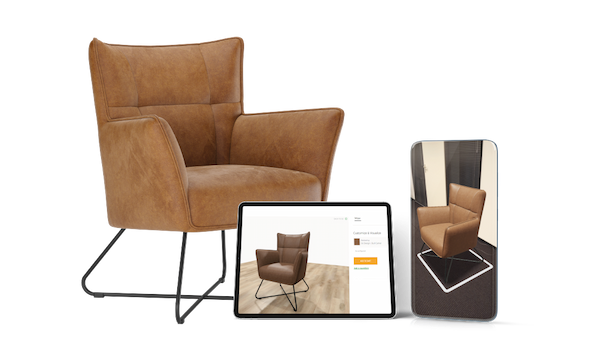 4 Too much or too little information
As a furniture manufacturer or a reseller, you have a deep product knowledge. You're the expert. On the other hand, your consumers don't have the same level of understanding about your products. That means they're going to need to see all the relevant information on things like materials, assembly, instructions, colors, fabrics, product care, and so on. 
The temptation is to fill the product page with everything you can – you've probably seen Amazon listings like this. The problem with doing this is when someone is making a considered purchase – like a large furniture item – too much clutter and information can be off-putting. What's needed are ways to open and close the information they want to see. Drop-down menus provide one option. A product configurator also has a 'blueprint' menu where users can select and deselect the options they require.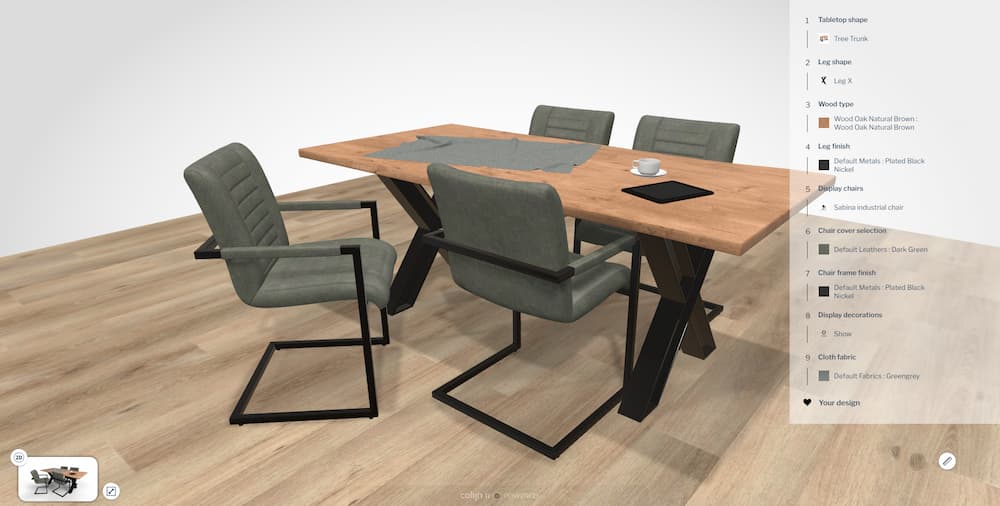 5 Not offering a guided selling process
One of the biggest benefits of visualization tools is when they're deployed as part of a guided selling process. Either in-store or at home, consumers can put together their selections and get real-time information on pricing. 
Assembling a preferred combination with all the options clearly presented, exploring the product in 360-degrees, seeing real-time pricing, and putting the finished item in the shopping cart in one seamless flow is guided selling at its finest. And it leaves little to no room for customers to drop out half way.
Not only does this improve the customer experience – achieving a much higher conversion rate – it also enables companies to track and use data from the customer journey, including things like what combinations the customer looked at and decided not to buy, or at which point they dropped out of the customer journey. All of this can facilitate data-driven decision-making to refine and improve the customer experience.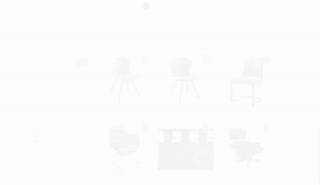 Visualization the way you need it
Every furniture brand is unique. That's why when it comes to giving customers the best possible visual experience of a product online, you need a range of different tools that match your brand identity. The great thing about iONE360, is that all the visualization tools you could need – from 3D renders to AR – are housed within one single platform.
The other main benefit of iONE360's platform is that when a product is configured and purchased, it's automatically translated into ordering information that can be sent to your systems, from production through to finance, offering the best possible customer experience and product presentation on the one hand, whilst optimizing your business processes on the other.
Discover more about the possibilities of product visualization with iONE360. Contact us
EXPERIENCE VISUAL COMMERCE
Try the 3D Product Configurator yourself